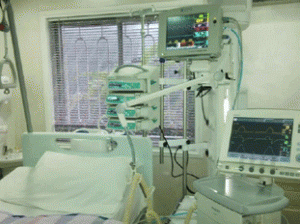 Hospital equipment
By Chimaobi Nwaiwu
Nnewi—Ikedife Hospital located along Igwe Orizu Road, Otolo-Nnewi, Anambra State is playing host to Jewish scientists, who are in Nnewi to conduct Deoxyribonucleic Acid, DNA, test on interested citizens there to determine the Jewish relationship with Igbos.
Hundreds of people trooped out in their numbers, yesterday, to participate in DNA test to ascertain the validity of the claims that the Igbo migrated from that part of the world.
As early as  7.00 am people had started arriving from every part of Igboland to take part in the cell screening exercise, while a few policemen were seen in the hospital premises to ensure a hitch free DNA exercise.
Former President General of Ohanaeze Ndigbo, Dr Dozie Ikedife, and owner of the hospital, while addressing newsmen on the exercise, said there had been stories of Jewish/Igbo relations based on archaeological discoveries and mythology, saying he facilitated the Jewish scientist to come and prove the mythology.
He said the Israeli-Yaweh group came into the country to take a random sampling of cells from the people in the South-East for studies to carry out a DNA analysis and comparison in Houston Texas USA.
According to him, "the idea is to establish scientifically the relationship of the two groups of people. It is necessary to satisfy the curiosity and answer the question in the minds of many for quite some time.
"The world has gone advanced, cellular examination can be used to establish the claim or otherwise of this kind of believe. In this modern time, such claims of relationship should not be left in the domain of mythological theories alone There is need to subject the claim to scientific proof.
"If at the end of the day, it is confirmed that we are relations, we would remain brothers and friends, but if it proved negative we remain friends. My curiosity is based on the fact that I studied Anthropology as well as Medicine, the result of the cell examination is expected to be out in August this year."