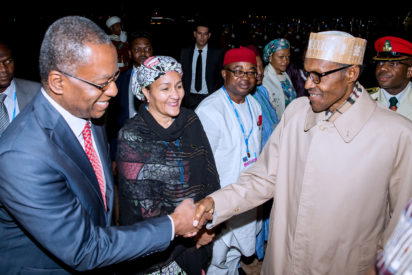 President Buhari with L-R: Minister of Foreign Affairs Geoffrey Onyeama, Minister of Environment Amina Mohammed, Chairman House Committee on Climate Change Hon. Samuel Onuigbo, Chairman Senate Committee on Ecology and Climate Change Senator Bukar Abba Ibrahim, Chairman House Commitee on Environment Senator Oluremi Tinubu
The Minister of Foreign Affairs, Chief Geoffrey Onyeama, on Friday formalised his membership of the All Progressives Congress (APC) in his Eke ward, in Udi Local Government Area of Enugu State.
The minister was accompanied by friends, supporters and well wishers during the event.
Onyeama, who spoke after the registration, said that the APC had come to stay and to remedy the impunity of the past 16 years the Peoples Democratic Party (PDP) held sway.
He said that the Federal Government was not unmindful of the hardship in the country and was working assiduously to remedy the situation.
The minister said that President Muhammadu Buhari was committed to the change mantra of the APC, adding that the administration had initiated new ways of doing things for the benefit of the masses.
"What we are facing today is a backlash of the wrong doings of the PDP.
"They held sway for 16 years and looted the treasury dry and it will not be too easy to clean up the rot they foisted on the nation.
"President Buhari is working for you. He is working for us and very soon we shall get there," he said.
Onyeama appealed to members of his ward and residents of the state to queue in and embrace the change agenda of the APC.
He said that the current administration was made up of technocrats who were committed to the task of rebuilding the nation.
Earlier, the state Chairman of the party, Dr Ben Nwoye, said that the 'broom revolution' was gradually turning Enugu into an APC state with the capture of notable politicians in the state.
Nwoye said that residents of the state were embracing the party in their numbers, adding that no fewer than 50,000 new members had joined in Enugu East senatorial district alone.
The chairman said that the ongoing registration of new members had seen 900 members register in the minister's ward.L
"We now have former legislators at both the state and the National Assembly and other influential faithful who defected from the PDP to our great party," Nwoye said.
Nwoye said that the APC was well aware of future election challenges in the state and was doing everything within the law to ensure that the party was made more popular in the state in order to end the PDP misrule.