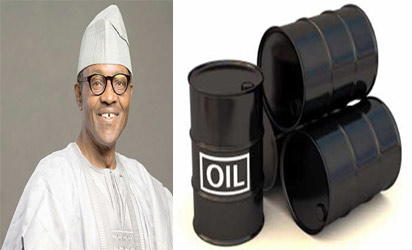 Buhari-oil
By Michael Eboh
The Federal Government, yesterday, said it is set to introduce a Biofuels Policy that would cut Nigeria's fuel import by five per cent in the short term and up to 20 per cent in the medium, and which would also help grow the country's foreign exchange earnings.
This was disclosed by the Acting Executive Secretary of the Petroleum Products Pricing Regulatory Agency, PPPRA, Mr. Victor Shidok, at a press conference in Abuja to announce the forthcoming workshop on biofuels development in Nigeria.
Shidok said work on the National Biofuels Policy and Incentive Document was at the final stages and the document is currently awaiting ratification by the Federal Executive Council, adding that once the approval of the council is gotten, the policy would become operational.
He stated that once the policy is in place, there are a number of individuals who are already engaged in the farming and production of biofuel products, while the policy would help coordinate and promote integration of their various activities.
He maintained that the production of biofuels and biodiesels do not require complex technologies, but only require little equipment and off-takers.
He said, "Biofuel as a source of energy when fully adopted would create employment opportunities, support agricultural development and can as well be used to generate electricity. Other benefits of biofuels are environmentally friendly, less pollution, cheaper as well as become source of foreign exchange earner."
He explained that biofuels comprise bioethanol and biodiesel, which are blends of petroleum products and agricultural products.
According to him, bioethanol E-10, for instance is a blend of 90 per cent gasoline and 10 per cent ethanol, while biodiesel B-20 is a blend of 80 per cent diesel and 20 per cent oil jathropha, used palm oil among others.