By Gabriel Enogholase
BENIN—A witness called by the petitioners, Mr. Osarenren Edomwandagbon, yesterday, narrated to the Justice Ahmed Badamasi-led Edo Election Tribunal sitting in Benin City, how his younger sister who is not resident in Nigeria was accredited and  voted during the September  28, 2016 governorship election.
The witness who testified at the resumed hearing in the petition by the Peoples Democratic Party, PDP, governorship candidate, Pastor Osagie Ize-Iyamu and his party, seeking to upturn the declaration of Mr Godwin Obaseki as the winner of the election by the Independent National Electoral Commission, INEC, was defending his written deposition wherein he had alleged multiple voting, non- accreditation and other electoral malpractices at his voting unit.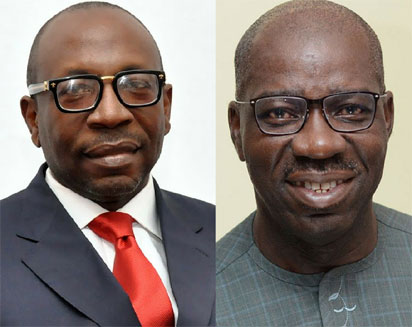 The witness, who was being  cross examined by counsel to the respondents, disagreed with counsel to INEC, Mr. Onyiyen Anomuyen, that the number of accredited voters were 246, insisting that it was 242.
Under cross examination by Mr Ken Mozia, SAN, the witness said that the total number of votes cast during the election was 245 as contained in his deposition statement as against the 239 contained in the election result sheet released by INEC.
"Accreditation was done to some extent. Not everyone was accredited. There was multiple voting and non- accreditation in my unit. My immediate younger sister who is not in Nigeria was accredited and voted during the election," he said.
The tribunal had earlier overruled the objection of counsel to the respondents that a witness, Mr Johnbull Idehen, was not mentioned in his written deposition statement Form ECH8A and as such could not testify on it.
But following Chief Roland Otaru, SAN, contention that the witness' written deposition statement document  was already before the tribunal, Justice Badamasi said "The witness is not tendering any evidence, he is only being asked to identify the documents. There is no law preventing him from doing that."