By Emma Amaize
MINISTER of Works, Power and Housing, Mr Babatunde Fashola, yesterday, said he never told the Senate Committee on Housing that N2 billion was planted in his ministry's 2017 budget for the housing sector. Fashola, on assessment tour of federal roads in the South-South region, told reporters shortly after inspecting the Aba-Port Harcourt dual carriageway project, that he was surprised that the Senate Committee summoned his finance counterpart, Mrs Kemi Adeosun, over alleged planting of N2 billion in the ministry's budget.
He said there was nothing like planting N2 billion in the budget, adding:"I said I do not have the details and that does not mean that something untidy happened."
The minister asserted that all the newspapers were screaming that Adeosun had been summoned as if there was something fishy, saying: "Budget is different from cash."
The money was allegedly voted for Regional Housing Scheme by the Ministry of Finance out of the N64.99 billion budget proposals for the housing sector for the year.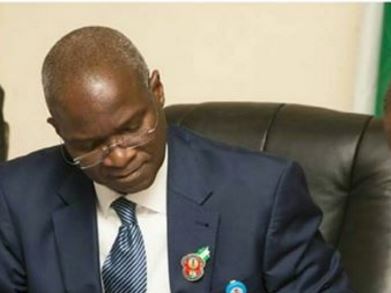 Fashola stated that the previous government did not take road construction seriously as it budgeted only 15 per cent for road, while the President Muhammadu Buhari administration has increased it to 30 per cent.
Yesterday, the minister inspected more road projects in Akwa Ibom, Rivers and Bayelsa states, as he continued his assessment of federal roads in the South-South region. He inspected ongoing rehabilitation of Ikot-Ekpene- Umuahia Road, Aba -Port -Harcourt Dual Carriageway project and construction of Yenagoa-Okaki- Kolo, Bodo-Bonny Road with bridges across Opobo channels in Rivers state.
Fashola, who started the South-South tour on Thursday with the inspection of Calabar-Ugep- Ikom road, indicated that the design for Calabar- Odukpani road was ready, while the ministry would commence a national housing programme across the country.
The Ikot Ekpene-Umuahia road was in a bad condition except for the section done by the Akwa Ibom state government and at Umuokpo community in Abia state, the road was cut off,as the minister passed through a bush path, where youths mounted barricade to connect back to the expressway.
He, however, assured that government would confront the perennial flood problem at Umuokpo part of the road next year.