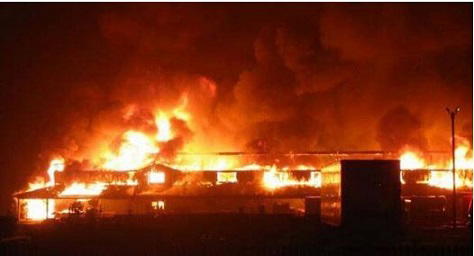 Flames of fire
By Ndahi Marama, Maiduguri
Persons suspected to be Boko Haram fighters have invaded Mussa village in Askira-Uba Local Government Area of Borno State, setting ablaze dozens of houses.  A man, believed to be trapped in one of the houses, was said to have been killed.
This was not the first time Mussa is witnessing Boko Haram attacks. The palace of the District Head and some structures in the community were allegedly burnt down by insurgents in recent past.
The latest incident came barely 24 hours after a group of insurgents ambushed troops in Ajiri village in Dikwa Local Government Area of the state, leaving seven soldiers dead and over 20 injured.
Askira Uba shares common border with Chibok and Damboa LGAs with some of the communities  located on the fringes of Sambisa Forest.
The incident, according to fleeing residents, occurred at about  9.30pm  on Friday.
Johnson Ali Gadzama, who claimed to be among those who fled into the bush upon hearing the sounds of gunshots, detonation of Improvized Explosive Devices, IEDs, and petrol bombs by the fighters, said the village is now deserted as residents fled. "Our community came under attack from Boko Haram at about  9:30pm  on Friday. The insurgents were reportedly  in a convoy of  vehicles on which were mounted  anti- aircraft guns and  carrying AK-47 rifles and other dangerous weapons,"Gadzama said.
"The insurgents looted  foodstuff, livestock before setting ablaze almost all structures, without anybody confronting them.  It is unfortunate that one person, who was unable to flee due to ill-health, was burnt beyond recognition by the attackers."
Sources said  the invaders fled before the military could intervene.
Efforts to get Borno State Police Command Public Relations Officer, Mr. Victor Isuku, to comment on the attack proved abortive as his phone lines were not reachable.
Meanwhile, 22 hours after,  another set of insurgents, launched a fresh attack on the community, yesterday.
Residents, who fled the first attack but returned to the village in the evening, told Sunday Vanguard  that the insurgents returned to Askia Uba at about 6:30pm, shooting sporadically and razing some structures still standing in the village.