By Kingsley Omonobi,  Michael Eboh & Omeiza Ajayi

•Army responsible for 1,967 deaths, arrested over 1,000 individuals from  Dec 2015 to Feb 2017 — AMNESTY
Contrived lies to blackmail, ridicule Armed Forces — Gen. Abubakar
Defence headquarters and Amnesty International are currently trading words over alleged killing of 240 persons in Borno and 177 agitators, under the aegis of Indigenous Peoples of Biafra, IPOB.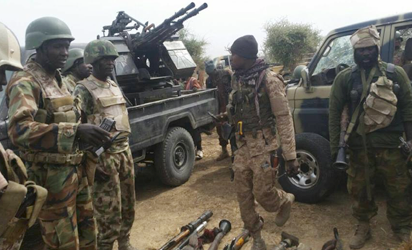 Amnesty International had in its recent report, alleged that the military killed no fewer than 240 in Borno State, including women and babies, and 177 IPOB members in the South East.
But the Defence headquarters, in its reaction, yesterday, described the organisation's allegation as yet another in the series of spurious fabrications aimed at tarnishing the good image of the Nigerian military.
In a statement signed by spokesman, Brig-General Rabe Abubakar, Defence headquarters said:  "Without mincing words, the allegations contained in the said report are not only inconceivable but also have no place in the Nigerian military.
''The report is rather contrived lies orchestrated to blackmail and ridicule the Nigerian Armed Forces which they have unsuccessfully tried to do in the past.
"It is on record that Amnesty International embarked on such series of false allegations against the Nigerian military and other security forces as far back as the inception of the military action against terrorists in the North East.
"Amnesty International would only encourage activities of non-state actors who take up arms against the state, killing, maiming and destroying public property but would always accuse security forces who are sacrificing everything to restore peace and normalcy.
"In as much as the Nigerian military acknowledges and respects the views and constructive criticism of individuals, groups or even international organizations, including Amnesty International, it will not fall for, nor accept the deliberate falsehood that have no bearing with the fact or reality on ground.
"The truth is that the Nigerian military has always been open in its operations and do not hide its activities from the probing eye of the public.
"Amnesty International chose to bandy fabricated reports and concocted stories instead of seeking clarifications from the relevant authorities. The Defence Headquarters run an open door policy in terms of information on its activities in the north east or elsewhere and is ever ready to provide clarifications on any issue.
"On a number of times, the National Human Rights Commission had sent its delegation to seek clarification on issues they are not comfortable with, and in each occasion, the DHQ always oblige them with the information they sought.
"Amnesty International would rather contrive their report to suit their intention which is to cast slur on the image and integrity of the Nigerian military.
''It smacks of mischief for the AI to insist on publishing unverified and unsubstantiated report as it is only it that knows why it embarks on such dishonourable venture over a period of time.
"The Nigerian military rejects this AI report in its entirety and appeals to all well-meaning Nigerians to disregard the report and discountenance its contents as they were meant to paint Nigeria in bad light.
"We reassure our citizens of our commitment to terminate these myriads of security challenges facing our country, mindless of unfounded reports and cheap blackmail by Amnesty International."
What Amnesty Int'l said
The global human rights watchdog, Amnesty International, had yesterday, indicted the Nigerian Army for alleged human rights abuses and for the deaths of over 1,967 persons and arrest of over 1,000 individuals from December 2015 to February 2017.
Amnesty, in its 2017 report of assessment of human rights around the world, titled: 'The State of the World's Human Rights,' accused the military and other security forces of serious human rights infractions, ranging from extra-judicial executions, enforced disappearances, torture and other ill-treatment.
Giving a breakdown of unlawful killings perpetrated by the military since December 2015, the report disclosed that over 1,200 individuals were buried in 2016 in an Internally Displaced Persons, IDP, camp in Bama, Borno State, due to inhuman conditions they were subjected to by the military.
It said: "There remained, at least, two million internally displaced persons (IDPs) in northern Nigeria; 80 per cent of them lived in host communities, while the remainder lived in camps. The camps in Maiduguri remained overcrowded, with inadequate access to food, clean water and sanitation.
"In the so-called inaccessible territories in Borno State, tens of thousands of IDPs were held in camps under armed guard by the Nigerian military and the Civilian Joint Task Force (CJTF), a state-sponsored civilian militia formed to fight Boko Haram. Most of the IDPs were not allowed to leave the camps and did not receive adequate food, water or medical care.
"Thousands of people have died in these camps due to severe malnutrition. In June, in a guarded camp in Bama, Borno State, the NGO Médecins Sans Frontières reported over 1,200 bodies had been buried within the past year. Both the CJTF and the army were accused of sexually exploiting women in the IDP camps in exchange for money or food, or for allowing them to leave the camps."
Amnesty also stated that mass arrest of people fleeing Boko Haram by the military, led to overcrowding in military detention facilities, adding that at the military detention facility at Giwa barracks, Maiduguri, cells were overcrowded, while diseases, dehydration and starvation were rife.
This, the report said, led to the death of at least 240 detainees in 2016, among which were, at least, 29 children and babies, aged between newborn and five years, while the bodies were secretly buried in Maiduguri's cemetery by the Borno State environmental protection agency staff.
Amnesty also accused the military and other security forces of killing over 177 members of the Indigenous People of Biafra, IPOB, despite the non-violent posture of the group in most cases when they were attacked.
It said: "The military deployment to police public gatherings contributed to the number of extra-judicial executions and unlawful killings. Since January, in response to the continued agitation by pro-Biafra campaigners, security forces arbitrarily arrested and killed, at least, 100 members and supporters of the group, IPOB.
"Some of those arrested were subjected to enforced disappearance. On February 9, 2017, soldiers and police officers shot at about 200 IPOB members who had gathered for a prayer meeting at the National High School in Aba, Abia State. Video footage showed soldiers shooting at peaceful and unarmed IPOB members; at least 17 people were killed and scores injured.
"On 29 and 30 May, at least 60 people were killed in a joint security operation carried out by the army, police, Department of State Services (DSS) and the Navy. Pro-Biafra campaigners had gathered to celebrate Biafra Remembrance Day in Onitsha. No investigation into these killings had been initiated by the end of the year."
In addition, the report noted that between December 12 and 14, 2015, soldiers killed more than 350 protesters and supporters of the Islamic Movement of Nigeria, IMN, at two sites in Zaria, Kaduna State, while hundreds of IMN members were arrested and continued to be held in detention facilities in Kaduna, Bauchi, Plateau and Kano states.