By Emmanuel Aziken, Political Editor
It is his second time seeking political office in Anambra State, but every nuance in Engr. Bart Nwibe's actions and words show him to be at war with those he claimed as the professional politicians who he alleged have held his native Anambra State hostage.
Six years ago he sought to represent the Agauta Federal Constituency in the House of Representatives on the platform of the Action Congress of Nigeria, ACN. Even though he claimed to have won based on the real votes cast, he said he was denied victory because of the many intrigues weaved by competing candidates in the election.
Perhaps, being chief executive and managing director of one of the country's most successful indigenous oil service companies, SEGOFS Energy Services Limited did not prepare him for the political intrigues. Nwibe had qualified as a civil engineer in 1985 with his heart focused on engineering. At the end of his National Youth Service programme in 1986, he worked with an engineering design company in Enugu before entering the oil and gas sector in 1987. He worked for several oil service companies including Schlumberger and, for Shell as a consultant before starting SEGOFS in 2006.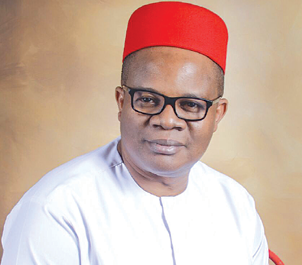 Six years after his first political outing, Nwibe says he is wiser even if Anambra is in more distress and in need of a saviour like him. No surprise he has raised the bar with his aspiration for the governorship ticket of the All Progressives Congress, APC in the forthcoming governorship election.
Without naming any, he claims he is better prepared than the other more exposed politicians who have already declared intention for the same ticket. Among them are Dr. Tony Nwoye of the House of Representatives, Chief George Moghalu, Senator Andy Uba
He claims that the situation in the country and in Anambra State, in particular, is one that should not be left in the hands of those he declared as professional politicians.
"I believe that professionals like me should get involved in politics so that we can start the process of rebuilding our nation. We are in crisis, we have a lot of things that are holding our nation down, we have ethnicity, and tribal sentiments that kind of doesn't allow us to think the way we should think some of the time," he declared to the five journalists that sat around him that midmorning.
Given the repeated cries of marginalisation, political neglect and such that have been the catchphrase of the Southeast political elite, Nwibe intervened with his assertion of failure of leadership on the part of the leadership.
"Where I come from in the Southeast, we have a big failure in leadership which has translated into youth restiveness; people believe today that everybody is against them. It is convenient for them to sit down there and say somebody in Lagos deported them; therefore the Yoruba hate them; it is possible for some people to say they are trying to Islamise us, force us to believe in a certain religion which is alien to us. These are challenges for leadership that we have in Igboland."
Noting the comatose state of the Nigerian nation, Nwibe affirms that the situation must be changed and canvasses that professionals who have ideas should enter the fray.
"I don't believe that those of us who have ideas should sit back and allow the present crop of people who are leading us to continue because we have not gotten anywhere."
Given claims that Anambra is better run than many other states of the country, Nwibe was asked why he would want to upturn the apple cart.
"Obiano is doing well in security because before he came, there were incidents of kidnapping," and for him, that is all the incumbent governor, Chief Willie Obiano has been able to do. He asserts that the governor has failed to raise the bar of governance.
"Obiano campaigned on the basis of Three Cs- Continue, complete and commission. He campaigned that he was going to continue what Peter Obi was doing, but you know his relationship with Peter Obi now. He did not continue, he has not completed, and he has not commissioned," Nwibe waxed.
He makes a mockery of the incumbent governor by citing the Awka Bridge being built by the governor as a throwback to pre-colonial architecture.
"It was the kind of bridge built 40 years ago. He defaced the capital city, and that is what he calls his signature project. I don't know any other area where Obiano has impacted. Chris Ngige said he would demolish it.
"I don't think he has done so much that he should be allowed to continue. He has not delivered on the 3 Cs that he campaigned on. He hasn't. He has been very parochial and sectional in his appointments."
Noting his political fidelity, he said he remained with the ACN and subsequently, with the APC even when the government was not in power and enjoins all those flocking to the APC to remain in the PDP and offer an alternative voice to the ruling party at the national level.
Or is it that he is afraid of competition?
"I am happy that many of them are coming into APC, but I do expect that they do realise that APC is a different kind of environment; that it is a party that is different from where they are coming from. I would expect that when they come in, that they should undergo some apprenticeship to realise that this is an environment with a different way of thinking. Because these are guys that don't believe in democracy, who believe only in Nicodemus movement – they never believe in anything straight."
"I remained steadfast in ACN and APC where I started my political life, and I believe that people like us should be encouraged to continue. I believe that those who believed in PDP philosophy should continue with PDP philosophy so that Nigerians should have a choice. I don't think it is wise today to be in PDP and tomorrow you jump into APC for the sole purpose of contesting an election."
On his agenda for the development of the state, Nwibe said he would focus on boosting employment through providing the enabling environment for industrialists to provide employment. He said he would particularly focus on power generation.
"Anambra State has a lot of businessmen with capital, but they have not been investing at home because of the absence of power. So, once we guarantee power for the industrial takeoff of Anambra State, so much will happen."
The capacity for governance he said has become more challenging in the light of the depletion of revenue from oil. Ironically for a man who made his money from oil, it is his prayer now that oil should dry up.
"The money is no more coming as it used to come. So anyone who must govern a state must have the ability to think out of the box…I wish that oil will dry up immediately so that everybody will go and find the natural resources that abound in every state to develop the state."
He throws a challenge to all stakeholders to scrutinise all those seeking positions in public office.
"Some people who don't have good school cert, suddenly come out and say that they have gotten Ph.D. and you start wondering what kind of Ph.D. It is left for you guys to profile everybody. Leadership and governance are so important and whosoever offers himself for that position must be scrutinised."
Even though not a professional politician, Nwibe is, however, not lacking in his capacity to dig at or hit at political rivals as he hits at APGA.
"APGA was a fraud. APGA was supposed to be an independent party, but it was never independent. What they were doing was to enter into an alliance with PDP, will not present a presidential candidate; they allow PDP to take the presidency, take the National Assembly positions and make a deal for them to be allowed to work in the state." According to him the soul of APGA as a party died with the exit of Mr. Peter Obi who he said was the soul of APGA after the demise of Chief Odumegwu Ojukwu.