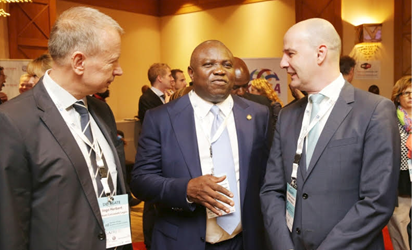 Lagos State Governor, Mr. Akinwunmi Ambode (middle), with the Consul General of Germany, Mr. Ingo Herbert (left) and Head, Delegation of the German Industry & Commerce to Nigeria, Dr. Marc Lucassen (right) during the second edition of the German-African Business Summit in Nairobi, Kenya, on Thursday, February 9, 2017.
…Says Africa Has Potentials To Be A Great Continent
Lagos State Governor, Mr Akinwunmi Ambode on Thursday said the State is willing, able and ready to partner with investors within and outside Africa, just as he said that adequate measures have been put in place to enhance the ease of doing business within the State.
Governor Ambode, who spoke at the second edition of German-African Business Summit held in Nairobi, Kenya, said as Africa's model mega city, Lagos is strategically positioned to play a leading role in propelling development on the continent, adding that as a result of the growing investors' confidence, the State is fast becoming a preferred destination for investors in Africa.
Giving statistics about State, the Governor said apart from being the 5th largest economy and fastest growing city in Africa with a population of over 22 million people comprising overwhelming proportion of middle class income earners, Lagos is also the contributor of 30 percent of Nigeria's Gross Domestic Product (GDP) and the leading contributor to the non-oil sector GDP.
"Lagos accounts for over 60 percent of the country's industrial and commercial activities; over 70 percent of national maritime cargo freight; over 80 percent of international aviation traffic, and over 50 percent of Nigeria's energy consumption.
"Also, Lagos is the nexus of Nigeria's section of Trans-African Highway which is being boosted by our enormous investment on the expansion of the Lagos Badagry Expressway, the primary ECOWAS highway, into 10-Lanes with Bus Rapid Transit (BRT) and the first light rail metro transit in West Africa.
"With these and the State's 180km Atlantic waterfront criss-crossed by maze of creeks and lagoons, Lagos is an investment and tourist delight," the Governor said.
While alluding to the measures put in place so far by his administration, Governor Ambode said the policy objectives were based on a tripod of security, infrastructural development and job creation, saying that such was further driven by desire to build a sustainable economy that is minimally dependent on federal allocation, but a private sector driven economy through local and foreign direct investment.
Specifically, the Governor said in less than two years, his administration pursued a governance structure that is primarily focused on creating an enabling environment for economic growth, job/wealth creation through friendly policies and incentives to bring about ease of doing business.
He said one of such policies was the establishment of the Office of Overseas Affairs and Investment (Lagos Global), which is a one-stop-shop that simplifies official processes and procedures leading to a significant reduction in the time that it takes to conclude transactions with government.
The Governor, who said that Lagos is open for business, said government has also demonstrated serious commitment to safety and security of lives and property, a development which he said had earned the security outfit of the State (Rapid Response Squad) recognition as the most effective and efficient in Africa.
He said:"Our judicial process has also been adjudged as the most progressive and modern in Nigeria. This is a result of the various reforms that were initiated to facilitate quick, just and fair adjudicatory process rooted in the rule of law. Just over a week ago, Lagos State hosted a summit on Administration of Criminal Justice in Nigeria. The objective of this summit was to generate ideas that will align our laws with the realities of technology-driven 21st century.
"As a result of the growing investors' confidence, Lagos State is fast becoming a preferred destination for investors in Africa. As a matter of fact, the aggregate of Foreign Direct Investment that had been attracted to Lagos State in the past 16 months is more that was achieved in the last 10 years."
Speaking on Africa as a continent, Governor said it was time for African leaders to develop lasting solutions to the myriad of challenges confronting the continent and work towards joining the mainstream of global economy, saying that the continent has all it takes to become a force to reckon with.
The Governor decried the assessment of Africa based on her potentials rather than actual contribution to the global economy, insisting that such ought not to be the case considering the abundance of indices of greatness in the continent.
"With a population of over 1.2 billion people and national endowments, Africa has all it takes to be a great continent. Ironically, despite her abundant human and material resources, the continent is still being assessed based on her potentials rather than actual contribution to the global economy.
"The 21st century therefore presents another opportunity for us to develop lasting solutions to our challenges and join the mainstream of the global economy by leveraging on our competitive advantage," Governor Ambode said.