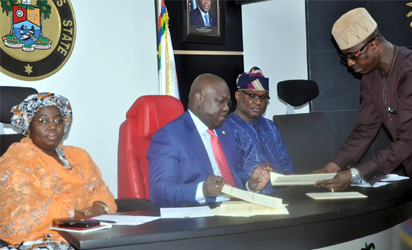 By Olasunkanmi Akoni & Monsuru Olowoopejo
Lagos—Governor Akinwunmi Ambode yesterday signed a bill into law stipulating death penalty for kidnappers, whose victims die in their custody and life imprisonment for act of kidnapping.
The State House of Assembly had on 5 January, 2017 passed the Bill for a Law to Provide for the Prohibition of the Act of Kidnapping and other Connected Purposes, specifying death and life imprisonment penalties for kidnappers.
The law prescribed death sentence for kidnappers whose victims die in their custody and life sentence for kidnappers whose victims came out alive.
The law states that any person who kidnaps, abducts, detains, captures or takes another person by any means or trick, with intent to demand ransom or do anything  against the victim's will, commits an offence.
Signing the bill into law at the State House, Ikeja, Ambode said the law on kidnapping was enacted to address key issues bothering on security.
The governor lamented that in recent times, kidnapping had become a major threat to the safety of citizens and therefore required decisive action by the government.
According to Ambode, "What we are doing in respect of kidnapping is in good spirit so that we can eradicate it complete from Lagos."
The governor also signed into law the Lagos State Sports Commission bill and the Lagos State Trust Fund bill.
The governor said the Sports Commission Law would give legal backing to the formulation and implementation of sports policies in the State while the Sports Trust Fund would enable government to raise money for the development of sporting facilities and activities.
He explained that this fund would provide a platform where the State government could enter into partnership with the private sector to finance Sports infrastructure, tournaments and programmes which would in turn create employment and generate revenue for the State
In his remarks, Speaker of the Lagos State House of Assembly, Hon. Mudashiru Obasa, said the signing of the bills into law by the Governor was a clear testimony of the commitment of the State Government to the security of citizens and sports development.
Obasa, who was represented by the Majority Leader of the House, Hon Sanai Agunbiade, said it was particularly gratifying to note that the anti-kidnapping law was an all-encompassing one which prescribes punishment for the actual actors, those that collaborate, aid and abet and those who see the act of kidnapping being perpetrated and do nothing about it, as well as confiscation of properties attached to the heinous crime of kidnapping.