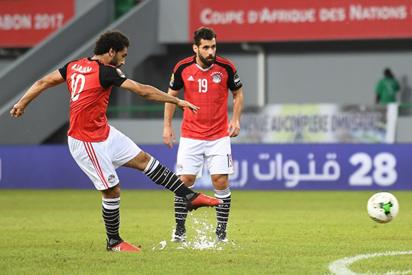 Egypt's forward Mohamed Salah (L) takes a free kick to score a goal during the 2017 Africa Cup of Nations group D football match between Egypt and Ghana in Port-Gentil on January 25, 2017. AFP PHOTO
The Africa Cup of Nations has proved a welcome relief to the ordinary and football-mad people of Egypt living through tough times of austerity and economic crisis.
"People want some joy in their life again after such a long period of crisis. We really need to win" Sunday's final against Cameroon, said Rabih Hilal, 68, seated in a Cairo coffee shop brimming with anticipation.
Amro Mustafa, another customer, said he has plastered the inside of his home with two giant Egyptian flags in honour of the Pharaohs who will take to the field in the final in the Gabonese capital Libreville.
Egypt has already won the trophy seven times since 1957.
The tally includes a hat-trick of consecutive triumphs as champions of Africa in 2006, 2008 and 2010, and the Pharaohs aim to set a new record in the tournament normally staged every two years.
With the country thrown into turmoil since its 2011 revolution toppled longtime dictator Hosni Mubarak, a demoralised Egypt failed to qualify for any of the last three tournaments.
"I'm confident and optimistic that we'll win," said 33-year-old engineer Amro Mustafa, holding a baby daughter in his arms. "Winning the championship for an eighth time will restore our prestige."
His wife Samia has ordered bottles of fruit juice and sodas for the family and friends who are to converge on their apartment to watch the final on Sunday evening, when homes and coffee shops across the land will be transformed into mini-stadiums.
Out on the streets, the excitement is already palpable with motorists making even more liberal use than usual of their car horns and flying Egypt's red-white-black tricolour. Hawkers are doing a brisk business in flags as well as vuvuzelas.
– High hopes –
"We have high hopes in our team, especially Hadary," the pride and joy of fans of the national team, said Ali Nour, a 58-year-old taxi driver.
Veteran goalie Essam El Hadary, 44, had gone 653 minutes without conceding in the Cup of Nations until Burkina Faso struck in the semi-final on Wednesday. His two saves in a penalty shoot-out took the Pharaohs through to the showdown with Cameroon, the Indomitable Lions.
At the Calypso cafe, owner Mohammad Ibrahim has lined up an array of multi-screen televisions and an impressive sound system to blast out the sights and sounds of the final in Libreville.
But the opposition is unlikely to be a walkover, even if Cameroon's last African Nations triumph dates back to 2002.
Having disposed of Ghana 2-0 in the semi-final, the Indomitable Lions are hungry to avenge their defeat at the hands of Egypt in the 2006 final.
"Cameroon are a well-organised team, with a better defence, a better attack. They are quite frightening," admits Mahmud al-Farmawi, an engineer aged 30.
Eid Mannah, a Cairo doctor smoking a nargileh, said he's been impressed by Cameroon being able to "keep their shape for the full 90 minutes" of matches. "I'm optimistic but worried," he said.