By Tabia Princewill
The Acting President, Professor Yemi Osinbajo, has been getting on quietly and unceremoniously with the business of governance. The vice-presidential slot on any ticket is an important one, as the Vice-President, should the need arise, must have what it takes to lead if the President is ever incapacitated.
Now that the deputy, the co-pilot finds himself in the driver's seat, rather than waste our time on intrigues and rumour mongering over President Muhammadu Buhari's health (after all he did the right thing by handing over to the VP as the Constitution dictates), well-meaning Nigerians must all band together to make sure that certain key reforms are undertaken before this four-year term runs out.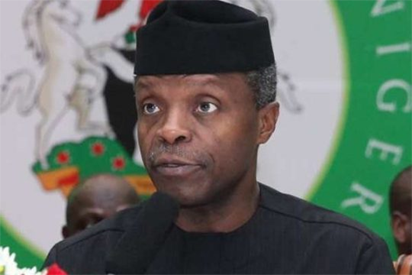 Yes, information relating to the President has been unclear, particularly the date of his return to the country, but with economic recession raging and the opponents of the war against corruption fighting hard to safeguard not only their lifestyle but the very system that makes it possible, we must set aside politics and personalities to focus on the interest of the nation.
Almost on a daily basis in Nigeria today, a corruption scandal is unearthed, and money recovered, often in the strangest of places. But without trials and sentencing, or any moves to educate the populace as to the reality of corruption, what it means, what its effects are on our economy and society, we remain far off from vanquishing the monster which has cost us so much in terms of development.
Vanquishing the monster
$153 million, as well as several luxury properties, allegedly linked to the former Minister of Petroleum, Diezani Alison-Madueke, $136.67 million located in an account with a false identity (it makes one wonder about the systemic failures of the banking system where despite BVN numbers and other such exercises, it is still possible to hide such sums), the discovery in Kaduna of $9.7 million and £74,000 cash allegedly hidden away in a slum by a former group managing director of the Nigerian National Petroleum Corporation, investigations and trials of ex governors and judges, etc., are just a few of the most recent headlines which point to the complete failure of the Nigerian state.
How can a country earn $300 billion from crude oil sales since 2014, according to estimates by the NNPC and yet see more than 60% of its population living in abject poverty? How can we continue to kid ourselves about the reasons for the current recession?
Besides oil pipeline vandalism and sabotage, if one compares the amounts lost to corruption to the budgets of many states in Nigeria, one would quickly see that some individuals in Nigeria are richer than the states they come from and not because of any brilliance or personal effort but all because of theft. Such ludicrous sums leaving our coffers with no productive usage to justify them besides conspicuous spending on luxury items, would undoubtedly have an effect on our economy, as evidenced today. What is Osinbajo's role in all of this, you might ask?
The Acting President can work closely with Ibrahim Magu, the Acting Chairman of the EFCC, to craft a new strategy to successfully tackle corruption. Many will oppose him but the tempo must not slow down due to Buhari's absence: the interest of Nigeria must always come first. We might not have a country in the next few years if we allow corruption to continue unchecked and unchallenged. The idea that the Nigerian project cannot fail even without concrete actions to fix it, that God will not allow it, points more to our own overconfidence than to any "special status" for Nigeria.
Acting President Osinbajo, as a jurist, has the knowledge of the law (and its unfortunate loopholes) and the strategic competence to fully support Magu if the cabal allows it. In fact, the area where Osinbajo can really make his mark now that he is vested with the constitutional powers of the President, is in judicial reform. Many (if not most) of our judges have sided with persons accused of corruption rather than the masses who have been the victims of severe injustice.
The Vice-President is relatively young (in comparison to what usually obtains in Nigeria) and energetic and mustn't be afraid of "showing up" his boss. If in the future, one day at the end of Buhari's term, he is called to lead, to serve Nigeria as President in his own right, whatever achievements he can boast of now will be the arguments sold to Nigerians. It is time that political ambition becomes subordinate to tangible achievements and that those who can deliver on their promises are allowed to do what's right in Nigeria. The security agencies, the DSS, EFCC and police have worked at cross-purposes, thus enabling suspects to get away with what can only be compared to murder and mass destruction. The Acting President can and should be the coordinator, ensuring that the different agencies involved in this fight work seamlessly together.
Buhari's  illness
One can only speculate on the extent of Buhari's illness and how this might have prevented him from achieving certain things or following up on the war against corruption, or again, on coordinating the charge. It is a job too important to be left solely in the care of any aide, no matter how serious or willing.
We are fighting for the soul of Nigeria: how many times will our hopes be dashed? Osinbajo has it in him, perhaps, to re-ignite those hopes and to stand for something greater than himself in the face of much betrayal and disappointment. If he performs he can make Nigerians believe in themselves again and more importantly, believe in their country. With public confidence at an all-time low, the Acting President is surely thinking about the future. That future must take the fate of the ordinary Nigerian into consideration and not just the wishes of a wealthy few.
Andrew Yakubu
The former Group Managing Director of NNPC has asked a Federal High Court in Kano to instruct government to return the money seized from him which was allegedly fraudulently obtained.. His lawyer claims the court that made the order of forfeiture lacked the jurisdiction to do so, as well as other legal jargon which still doesn't explain why (or how, as this doesn't happen anywhere in the developed world) a respectable business man would hide such huge sums if legally obtained. Nigerian law has many loopholes and this is where the Acting President should come in. Our laws desperately need to be reformed. Because of these loopholes the state is cheated and illegality prevails.
But didn't the EFCC lawyer in charge of the case know which court had the legal right to make such a demand or is this merely another ruse? After all, Mr Yakubu isn't denying the money is his, nor is he saying what sort of business one does which enables one to keep almost $10 million in cash stashed away.
Ibrahim Magu
THE "stop Magu" gang, if one can call it that, is desperately seeking to protect itself and its riches, that is the spoils of corruption. Nigerians must read between the lines and not be manipulated by people who barely even think of them let alone care for their well-being. It is only in Nigeria where thieves find ordinary men to defend them and sing their praises while continuing to rob them. What happened to the bailouts given to the states to pay salaries? How can a grand total of N388.304 billion be released with little effect?
Where is that money now? Those who mean well for this country must find a way to organise and counter the "fake news" and misinformation distilled by guilty parties. If we don't stop corruption, there can be no positive change. It is our number one enemy, almost every other issue is its direct consequence. All we can do for now is remain vigilant and oppose any attempt at twisting the truth.