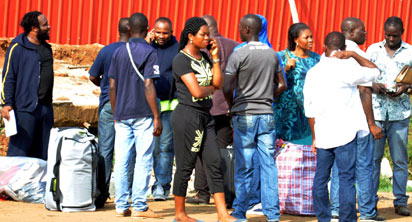 back home: Deported Nigerians from the United kingdom and Australia at the Murtala Mohammed International Airport, Ikeja, Lagos, yesterday.
The National Emergency Management Agency has said that about 85 Nigerians were to be deported by the United Kingdom today.
The agency spokesperson said the the deportees are expected to be in Nigeria at 5am Wednesday.
NEMA's Ibrahim Farinloye speaking to reporters said the deportees were expected to be in the country at 5am and that the information was that the deportees from the United Kingdom were about 85 Nigerians
Some of them he said were Nigerians who haven't completed their prison sentences in the UK.
'They would be taken to Nigerian prisons to complete their terms. Although we cannot tell the various offences, we believe others could be drug-related and immigration problems.
"We expect that when they arrive in the country, we would be able to know the real reason for their deportation.
The aircraft is expected to arrive in the country at 5am at the Murtala Muhammed International Airport." He said