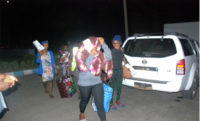 Forlorn-looking Nigerian ladies who are victims of human trafficking evacuated from Bamako, Mali and facilitated by the office of Senior Special Assistant on Diaspora on arrival at the Murtala Muhammed International Airport, Ikeja, Lagos. Photo by Lamidi Bamidele.
By Lawani Mikairu
lagos—Forty one teenage Nigerian girls who were trafficked to Mali en-route Europe were yesterday received at the Lagos airport after they were rescued by the National Agency for the Prohibition of Trafficking in Persons, NAPTIP, with the assistance of Nigeria Air Force.
The girls between the ages of 16 and 20 arrived the Murtala Muhammed International Airport, Lagos aboard a military transport aircraft, Hercules C139, with registration number Nigerian Air Force 913. The aircraft landed at the Nigerian Air Force Hangar wing of the Lagos Airport at about 7.25 pm .
The girls were rescued after a presidential directive to the Ministry of Defence , Nigerian Air Force, Office of the Senior Assistant to the President on Diaspora, and NAPTIP that all trapped victims of human trafficking should be brought back to Nigeria.
The young ladies scantily dressed were forlorn-looking as they alighted from the  aircraft.
Speaking in an interview, Senior Special Assistant to the President on Diaspora, Hon Abika Dabiri – Erewa said their evacuation was made possible with assistance from the office of the Chief of Defence Staff, Nigerian Air Force, NAPTIP and relevant agencies of government.
She urged the returnees to make the best use of their lives as there was nothing tangible they were doing in Mali . She also said there were many Nigerians who  are still stranded in Mali, promising that they will be brought home.
Dabiri-Erewa revealed that before the evacuation of the girls to Nigeria, NAPTIP officials travelled to Mali for documentation and other logistics to ease their return.
"Some of the girls complained of not being allowed to take their belongings as they were literally brought home "empty handed ,"she said.
She added that the 41 girls are victims of trafficking by some individuals .
She praised the Chief of Defence Staff, Chief of Army Staff and Chief of Air Staff for providing the aircraft to facilitate the evacuation.
She said; " NAPTIP will rehabilitate them, we have commenced profiling of the girls. We call on Non Governmental Organizations to join us in tackling this problem.
" They were deceived into embarking on the journey. We will ensure we train in different vocations, after which we will trace their parents and counsel them. We will monitor the girls for two years, so they do not sell the vocational equipment."
"This has gone beyond poverty, it is moral depravity for parents to allow girls like these to embark on such mission. Parents should be prevailed upon and counselled too.
"The President directed the service chiefs to wade into the matter to rescue the girls who came back with stories of woes and lamentation. We have arrested six suspects in connection with their trafficking and  handed them over to security agencies for prosecution. "