The good people of Nigeria in union with the National Association of Government Approved Freight Forwarders (NAGAFF), on Wednesday commended the Nigeria Customs Service (NCS) for intercepting a 40-foot container with 661 pump action guns illegally imported.
The National Publicity Secretary of the association, Mr Stanley Ezenga, made the commendation in an interview with pressmen in Lagos.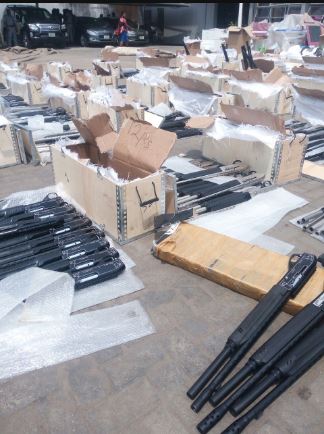 He said that the interception was particularly commendable in view of the country's security challenges.
Ezenga told journalist that Nigeria's security challenges would have been more if the rifles got into circulation.
"The discovery of these dangerous weapons by customs is a pointer to the fact that the service will deliver on its mandate if provided with all the things required to do its job.
"However, customs should embark on self-purging because it is embarrassing that some officials at the airport passed the same container that was discovered to carry weapons, during a turnaround check on Mile 2 – Apapa Road," he said.
Ezenga urged the NCS to intensify its anti-corruption fight to prevent entry of contraband into the country.
Subscribe for latest Videos