By Vincent Ujumadu, Awka
DESPITE initial hiccups as a result of a rift between the traditional ruler of Nri, Eze Obidiwegwu Onyesoh and members of his cabinet, who tried to stop the 1018 annual Igbo calendar festival over irreconcilable differences, the ceremony would take place today at the acclaimed ancestral homeland of the Igbo and the custodian of the Igbo culture and tradition.
Workers were seen yesterday putting finishing touches on the palace and the expectation was that everything would be set before the end of the day to welcome prominent Igbo sons and daughters in Nigeria and in Diaspora, including the president general of Ohaneze Ndigbo, Chief Nnia Nwodo, who would grace the ceremony.
The ceremony began yesterday with a cultural display and a lecture at the Eze's palace, while today's event would feature the conferment of titles on deserved people.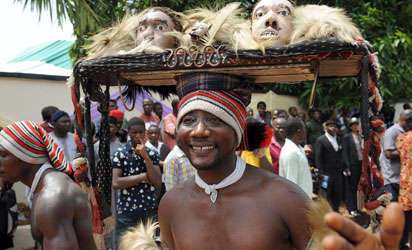 A new set of Eze –in-Council would perform today's ceremony with Eze Onyesoh following the removal of the former council members who attempted unsuccessfully to stop the ceremony via court injunction, on the ground that the royal father was sidelining them on matters concerning the award of titles in Nri.
But justifying the removal of the former council members, Chief Emma Emelife, chairman of Eze Nri Advisory Committee, told reporters at Nri that the traditional ruler needed to inject new lease of life into his cabinet to meet the expectations of the people.
He said: "We had the Eze – in –Council known as Nzemabua, but to accommodate other villages that were not represented, we now have 24 members of the council. We had three villages, but now we have six villages and they should be represented in Eze's cabinet, which made the former cabinet members uncomfortable.