BY UGOCHUKWU ALARIBE
ABA- A member of the Elders' Council of MASSOB/BIM, Chief Larry Odinma, has accused the Indigenous People of Biafra, IPOB, of prolonging the detention of the director of Radio Biafra, Nnamdi Kanu.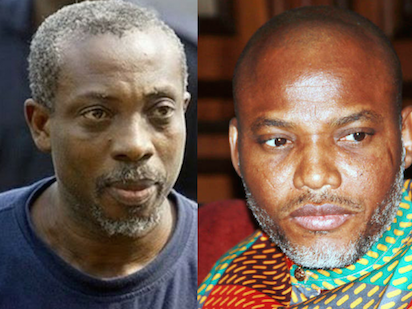 In an interview with Vanguard in Aba, Odinma said IPOB had continued to harass Uwazuruike and other eminent Nigerians who possess the capacity to negotiate Kanu's release with the federal government.
IPOB had accused MASSOB founder, Ralph Uwazuruike, of being one of the masked witnesses to testify against the director of Radio Biafra, Nnamdi kanu.
He claimed that Kanu was one of Uwazuruike's loyalists who was sacked for alleged sabotage, but insisted that the MASSOB founder had no reason to testify against the detained IPOB leader.
"Do you know who Ukwazuruike is? It is unfair for people to say that our leader, Ukwazuruike, wants to testify against Nnamdi Kanu in secret. Uwazuruike is a fearless leader; he has no reason to testify against Kanu in secret.
MASSOB does not understand the all these noise being made by Emma Nmezu and Clifford Iroanya about Nnamdi Kanu, he is not the first person to be detained over Biafra.
Ralph Uwazuruike and other Biafran leaders have suffered several detentions, even under dehumanizing conditions than what they claim Nnamdi Kanu is going through.
"What IPOB has been doing amounts to prolonging Nnamdi Kanu's detention by harassing Uwazuruike and other eminent Nigerians who can negotiate with the federal government to free Nnamdi Kanu? We hope that IPOB is not benefitting from Kanu's detention because they are indirectly frustrating every move towards his freedom."
While explaining that Uwazuruike had sacrificed a lot for Biafra and deserves to be honoured by Ndigbo, the Biafra activist called on the people of the former Eastern Nigeria and Anioma not to be discouraged by suffering which they have been subjected to in Nigeria, adding that the actualization of an independent state of Biafra is at hand.