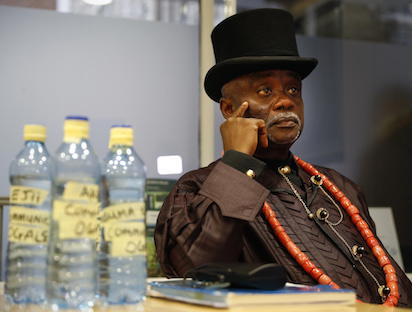 Bottled water samples stand on a table as Nigerian tribal king Emere Godwin Bebe Okpabi speaks during an interview in central London on November 21, 2016. Britain's High Court will on November 22, begin to hear arguments on whether the English Courts can hear two legal claims on behalf of over 40,000 Nigerians against Royal Dutch Shell and its Nigerian subsidiary, Shell Petroleum Development Company of Nigeria (SPDC), in relation to environmental damage caused to two separate communities in the Niger Delta. / AFP PHOTO
A British court on Thursday blocked pollution claims against Anglo-Dutch energy giant Shell by more than 40,000 Niger Delta residents demanding action over decades of oil spills in the region.
Members of the Ogale and Bille communities had applied for the case to be heard in Britain, arguing they could not get justice in Nigeria.
But the High Court in London said it did not have jurisdiction in the case.
"Our community is disappointed but not discouraged by this judgement," King Emere Godwin Bebe Okpabi, ruler of the Ogale Community, said in a statement.
"This decision has to be appealed, not just for Ogale but for many other people in the Niger Delta who will be shut out if this decision is allowed to stand.
"Shell is simply being asked to clean up its oil and to compensate the communities it has devastated," he said.
The firm's lawyer Peter Goldsmith told judge Peter Fraser during a hearing in November that the cases concerned "fundamentally Nigerian issues", and should not be heard in London.
However, Daniel Leader from legal firm Leigh Day, representing the claimants, responded that the spills had "blighted the lives of the thousands".
He said they had "no choice" other than to seek legal redress in London.
Goldsmith also argued that the case involves Shell's Nigerian subsidiary SPDC, which runs a joint venture with the Nigerian government.
He claimed that the case was aimed at establishing the High Court's jurisdiction over SPDC, opening the door for further claims.
– 'Strange diseases' –
Leigh Day had argued that Shell was "ultimately responsible for failing to ensure that its Nigerian subsidiary operates without causing environmental devastation".
"At the moment these communities have no choice — they have to take them to court to get them to act," Leader said earlier.
Okpabi told AFP in an interview in November: "Shell is Nigeria and Nigeria is Shell".
"You can never, never defeat Shell in a Nigerian court. The truth is that the Nigerian legal system is corrupt," he claimed.
Holding up a plastic bottle containing contaminated water from his community in Nigeria, the tribal king said "my people are drinking this water".
"There are strange diseases in my community — skin diseases, people are dying sudden deaths, some people are impotent, low sperm count," he added.
"I can afford to buy water. But can I afford to buy for everybody? No."
SPDC claims that the main sources of pollution in Ogale and Bille are "crude oil theft, pipeline sabotage and illegal refining".
The first claim was brought on behalf of 2,335 individuals from the Bille Kingdom, who are mostly fishermen who claim their environment has been blighted by oil spills.
The second claim was brought on behalf of the 40,000 members of the Ogale Community, who say they have suffered repeated oil spills since at least 1989.