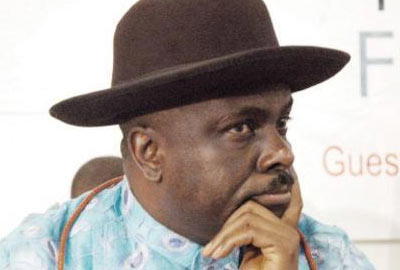 James Ibori
By Tony Eluemunor
There is one aspect of the James Onanefe Ibori's and his associates' London trial that is now unravelling; it shows that the British control of Nigeria's polity never waned despite Nigeria's 1960 paper independence.
Unknown to Nigerians, Britain has an outfit whose tentacles reach into the commanding heights of Nigerian business, politics and social organisations. The Ibori London trial provides a case study of how Britain uses its powers to affect the direction of any Nigerian development, including elections.
At the centre of this conspiracy is the British government's aid agency – the Department for International Development (DfID). To the world, it provides British monetary support for humanitarian aid and projects in impoverished counties. Yet, as its role in the Ibori case shows, its agenda is however political. In the Ibori case/s, the British government used these aid funds as a political tool against Ibori and to support its political agenda and undermine Nigerian sovereignty.
For the first time, we reveal how this was done.
Bhadresh Gohil, Ibori's UK lawyer, who has maintained his innocence from the outset first began uncovering the true and deeply conflicted role of DFID in 2011. The 2010, Gohil trial lacked any evidence of any crimes committed by Ibori. The basis of the case was totally unsupported. He then discovered that the jury foreman in his trial, as in Mrs Theresa Ibori's own trial too, was a senior career DFID top management employee.
To begin at the beginning; It will be recalled that since 2005, DFID funded the entirety of the Ibori, Gohil and linked prosecutions; with £16 million going to "The Proceeds of Corruption Unit."
Here, it must be noted that the Ibori London trial truly differs from the Nigerian trial in the inclusion of the V-Mobile Transaction among the charges Ibori faced in London, and the use of inference and inference alone as opposed to proving allegations beyond any reasonable doubt in Nigeria.
For the first time in the Ibori case/s, the presumption of innocence laws were abandoned and it became a presumption of guilt. Inferential law, created originally to combat both terrorism and narcotics-trafficking was applied to support the UK's charges against the powerful politician.
With the mere inference, as opposed to proof beyond reasonable doubt level of proof firmly in place, all a jury of Britons heard were the words "politician", "Nigerian", "money" and "corruption" without any investigations into any allegation. The dishonest smearing by UK police who failed to conduct even the most basic of investigations and dishonest prosecutors who withheld key material in the Ibori cases has no chance of success in a REAL trial.
Having lost in Nigeria, after the DFID-funded EFCC lost the case against Ibori in 2009, the DFID-funded British Police then dragged the same charges to the UK. Thus, the charge over sale of Delta State's shares in V-Mobile arose merely to exaggerate the value. Yet, it is remarkable that Delta State lost no money in that entire transaction.
Just how Britain steered this prosecution speaks volumes: DFID, was effectively, the second-largest shareholder in Celtel BV and was a stringent opponent of Delta State in the V-Mobile Boardroom. All of this was undisclosed during the trials.
Clearly, neither the Nigerian nor the British public knew that in the V-Mobile shares sale issue and the Ibori case, DfID acted as aid partner, governance monitor, investigator in Nigeria through its funding of the EFCC, UK investigator, UK prosecutor, and had a senior employee as the jury foreman. Not even the Nigerian government exercised such powers in its own land. DfID was at the same time funding NGOs that it could use as pressure points to affect any government policy or election, even as it was also funding on-line publications to further those ends.
Also, DFID, through its commercial arm, CDC Plc, was actively and discreetly using tax havens and acquiring substantial assets linked to Ibori and in particular acquired V-Mobile, through Celtel BV.
The following diagram demonstrates the numerous DFID conflicts, all of which have been engineered or orchestrated by DFID officials in this case. They demonstrate staggering and unacceptable violations of constitutional law in the UK.
The diagram shows just how deeply the British Government was orchestrating the prosecution and the conviction.
We see the following:-
DFID's Aid to Nigeria has been in the region of £1.4 billion in a number of governance programs and represents on the 4th largest in Africa
DfID funded Delta State (STAND) programme in Ibori's Delta state.
DfID funded the EFCC Ibori prosecution under Justice 4 ALL/ Security Justice Growth. •DfID's head Sir Mark Lowcock often met with EFCC Chair Lamorde, according to newspaper reports, who as a person has had serious charges hung on his neck.
DfID via it's commercial arm CDC (100% owned by the DFID is invested in 7 major Nigerian companies all linked to Ibori.
DfID was the 2nd largest Shareholder in Celtel BV – the purchaser of V-Mobile, again another undisclosed major conflict
Most of all, Lambertus de Boer, one of the lawyers jailed in the case has dropped this bombshell: "DfID entered into an agreement with the Nigerian Authorities in 2005 claiming the first £25m from all funds recovered during confiscation proceedings from Ibori and Ibori linked cases…" would be paid to DfID before a penny is returned to Nigeria. So, a treasure hunt is on.
No wonder the Crown Prosecution Service's (CPS) public statements have been exceptionally misleading. DfID/CPS have repeatedly claimed that some $250 million was alleged to have been stolen by Ibori from Delta State. But at the 2013 Ibori confiscation hearing at Southwark Crown Court, it became clear that His Honour Judge Anthony Pitts, having heard the underlying evidence, was unable to make any such findings in relation to the DfID/POCU allegations. So, the Judge could not deliver a ruling; instead he ordered a new trial even though the prosecution and the defense had made their final submissions.
De Boer has claimed that he is a victim of the same DfID-funded corrupt Metropolitan Police Service ("MPS") and Crown Prosecution as was Bhadresh Gohil, a co-defendant in the V-Mobile transaction and have appealed against their convictions. ''My appeal is based not only on the staggering police corruption but also given the heretofore non- disclosed material which clearly demonstrates the absence of any fraud/money laundering in the V-Mobile Case, it is now clear that prior to the commencement of the original December 2010 V Mobile trial, we were denied proper disclosure". Ibori is expected to also appeal his conviction!
In the V Mobile transaction, DfID through its ownership of CDC Group plc was secretly the second largest shareholder of Dutch Antilles (a tax haven) registered Celtel B.V. – the company that ultimately acquired control of V Mobile in June/July 2006. DfID's role in this light was plainly conflicted.
At the same time, the extensive commercial relationships between CDC Group Plc ("CDC")/Actis LLP ("Actis") and Emerging Capital Partners LLP ("ECP") and James Ibori linked commercial interests were never disclosed to the various defense teams. These were exposed by the BBC's Newsnight, in conjunction with The Corner House in 2013.
These commercial interests represented an important source of Mr. Ibori's wealth and not as presented to the UK courts – theft from Delta State. The DfID and CDC commercial involvements with Ibori linked companies were presented in the Memorandum to Secretary of State for International Development on 29 June 2010 through the collective efforts under the umbrella of the Jubilee Debt Campaign and The Corner House. The Corner House provided a briefing document to Parliament in 2010-2012. These co-investment and other commercial linkages remain open for proper investigation.
DfID has also been conflicted on numerous levels in this case including, funding not just the EFCC but also its chief investigator – Nuhu Ribadu, Ibori's known political rival who it also appointed to work for its Afghanistan Office.
So the British Government through DfID, through CDC that has a business commercial relationship with James Ibori is now prosecuting Ibori through investigation for money laundering and has convicted him.
De Boer explained in London's Ben TV interview: "V-Mobile needed financing; for about three years it had been starved of capital and it was losing market position. Basically it devolved from the strike at the Boardroom level where Econet Wireless International's Strive Masiwiya who had been an original shareholder back in 2002, was stripped of his ownership in 2003 because he didn't deliver the funding that he was supposed to do". That was the genesis really, when he did not deliver, that was when Akwa Ibom state and Delta state and possibly Lagos state got involved to provide the critical funding that the company needed.
De Boer also says "From about September, October 2005 through the second quarter of 2006, we had a very critical role in the evolution of the transaction. We had several discussions with Econet Wireless International, who was appetitive to acquire the whole of V-Mobile, we actually had discussions with them but we don't really know for what reason Strive Masiwiya didn't follow through on what we had brought to him, whether it was for lack of funds on his part or whether he had a larger motive in driving the underlying capital in V-Mobile into bankruptcy which would have happened if the Celtel deal hadn't transpired"
De Boer said "For the life of me, I never understood why Ibori pleaded guilty. Mr. Ibori was not at all involved in the transaction. We have Akwa-Ibom state which also gave consent, Delta gave consent, along the line, sitting on top of Delta State was James Ibori. He was convicted,, prosecuted, convicted over that, Akwa-Ibom was never arraigned. I didn't understand Mr. Gohils' position either. And when Mr. Gohil pleaded guilty, my Barrister just throw me into the box. When he pleaded guilty, it became criminal proceeds and the fees that we earned and other proceeds, and of course, myself and Mr. McCain had handled them and they just felt that I had money laundered".
De Boer explained: "The CDC as I now know was the largest shareholder of Celtel, the ultimate winning bidder and I didn't know that at that time and there were other aspects where CDC had been involved. CDC had invested a lot of money with a private equity group called Emerging Capital Partners which is based in Washington DC with important office in Johannesburg. The shares could not be tendered through the Celtel bid because they had a right of first refusal issue when they originally priced them. So I was negotiating with them and all of a sudden I was shut off the scene. It was later I got to know that it was CDC and ECP that wanted to buy those shares and wanted us out of the way".
One thing is clear: CDC is a business financial arm of DfID, a department of the British Government and have financial stake in Celtel , the second largest financial shareholder wanting to take over V-Mobile that Delta state was also interested in. Delta state, Lagos, and Akwa Ibom became part of the parties involved, had 60% of V-Mobile and had interest in Celtel with CDC and ECP. The rest is Boardroom power play and political control games spruced up as a corruption case.
Tony Eluemunor is Ibori's Media Assistant.