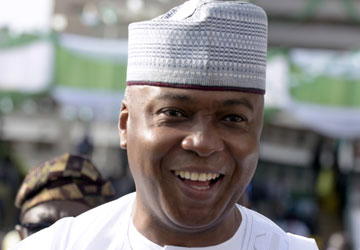 Bukola Saraki
The President of the Senate, Dr Abubakar Bukola Saraki has launched a contest to promote made in Nigeria products.
The Contest scheduled to run for three months is aimed at showcasing the process and raw materials used in producing such locally made goods.
In a statement personally signed by Saraki, he said that the contest would identify the good products that could be matched with investors and government agencies.
He said that such agencies or investors would drive the products to the extent that they compete favourably with any similar product being imported.
"Today, as promised, we kick-start the soft launch of the #MadeInNigeria Challenge.
"This campaign is organised to showcase everyday products that are used by Nigerians and produced by Nigerians locally that serves as an alternative to imported products.
"The next few weeks, we hope to identify products and ideas that can be matched with investors and government agencies.
"To wrap up the Challenge, in March, we will be inviting some of the finalist to a Made In Nigeria Roundtable at the Senate.
"This Roundtable will allow us, legislators, Government Agencies, business owners, and everyday Nigerian consumers to review and update the report of the National Assembly Business Environment Roundtable (NASSBER), which was held in 2016 to improve the ease of doing business in the country," he said.
Saraki added that the roundtable would also be used to get feedback on the Public Procurement Act passed by the Senate in 2016.
The amended Act mandates government agencies to give preference to local manufacturers in Procurement of goods and services.
He wished all the participants good luck and called on Nigerians to use the hashtag #MadeInNigeria in all your submitted videos.
To participate in the contest, participants are to shoot a video of between 45 seconds to 3 minutes showcasing their product or service that is an alternative to imported ones.
The manufacturer must utilise up to 70 per cent of locally sourced raw materials to qualify as a made in Nigeria goods or services.
The video has to state the registration status of the company, the number of people currently employed and the intervention you need from government to aid small businesses in Nigeria.