By Emman Ovuakporie & Johnbosco Agbakwuru
ABUJA — MEMBERS of the House of Representatives committee on Public Accounts, yesterday gave a 48-hour ultimatum to Ministry of Niger Delta Affairs to make available the contract agreement and all financial details relating to the dualization of East-West Road in Rivers State.
The committee's action is based on Auditor-General of the Federation's query of 2013 which allegedly indicted the ministry on N323 billion contract sum disbursement.
The committee had, at an interactive session with officials of the ministry, led by its Permanent Secretary, Mr. William Alo, claimed that the ministry had been denying lawmakers the opportunity to sight the project's contract agreement and relevant documents pertaining to release of funds, current state of contract and outstanding payments.
The committee, in its last meeting, had demanded for the documents which the ministry had allegedly  been reluctant to forward to the committee, even as Mr Alo claimed that the agreement was within his ministry's reach.
But he complained that the 48 hours ultimatum given the ministry was too short for them to reproduce the documents in 40 copies, as demanded by the committee, considering their sensitive nature and volume.
He said: "As I speak with you, there is no electricity in the ministry to reproduce the documents for your committee in 48 hours. We, therefore, plead for two weeks, considering the volume of the documents you are asking for and their quality. It is not something we can do in a hurry. We are not also expected to take government documents to commercial centres for reproduction."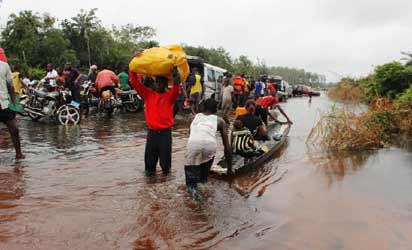 However, the committee chairman, Kingsley Chinda, PDP, Obio/Akpor Federal Constituency, insisted and announced members' willingness to conduct an assessment tour of the project after their next meeting with the officials to ensure that the committee would not be misled by the documents that would be supplied by the ministry.
A member of the committee, Gabriel Onyenwife, APGA, Anambra, queried why the ministry mobilized the contractors handling the four sections of the road contracts to N312 billion, leaving N11 billion outstanding, when the projects had not been completed.
The 2013 audit report of Auditor General of the Federation had, at the time of audit, indicted the ministry for discrepancies in the handling of the contracts, where only 24 per cent had been accomplished, despite that over 50 per cent mobilization had been paid.
Alo, in his defence, said the current completion statuses of the contracts were 91 per cent, maintaining that the ministry followed due process in the awards and payments carried out as all the payments were approved by Bureau for Public Enterprises, BPE, and Federal Executive Council (FEC).
Officials of the ministry are expected to appear before the committee on Monday next week with documents stating areas covered and amounts paid to contractors so far.