•This burden is too much for me— pregnant widow
•Family demands justice
By Evelyn Usman
As she reclined on a chair in front of her parent's compound at Ubeji community in Warri South Local Government Area of Delta state, it was obvious that she was totally detached from her immediate surroundings and her contact with the reality of the moment blurred.
Not even the taunts and jeers from some children nearby could interrupt her sad musing gaze. But the cry of her one-year-six-month- old twins who ran to her complaining that they were prevented to join other children in their game, succeeded in getting her out of her reverie, as she broke down in tears and drew them close to her bosom
The grief stricken woman was Mrs Amajuoaritse Dottie, widow of a 34-year-old man who was allegedly shot to death by some policemen stationed at the Petroleum and Petrochemical Marketing Company , PPMC pipelines at Ifie-Poro town, Warri, a week to Christmas, last year.
The incident , truncated the family's plan of celebrating last Christmas in grand style , within their capability.
The 28-year-old pregnant widow who is yet to come to terms with the horrifying reality of her husband's demise, began by asking rhetorically how she would be able to shoulder the responsibilities saddled on her by the unfortunate incident.
Response to death call
Crime Guard gathered that her late husband, Omayone Dottie (34) , met his unprepared end on December 18, 2016, after receiving a call from someone who identified himself as one of the policemen at the PPMC pipeline at Ifie -Poro, to meet him at the PPMC pipeline.
An earlier call where the caller refused to identify himself was said to have been received by the deceased. After receiving the second call, he reportedly called short his social outing with his family as he drove them back home with a promise to his wife to be back.
But that was never to be , as news later filtered in that he had allegedly been shot by some policemen , an incident that ended what she described as moments of bliss with Dottie.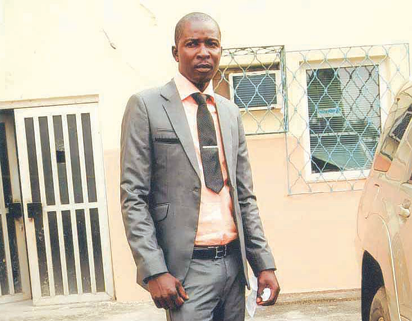 Youths spoiling for war
Crime Guard learned that youths in the community who were piqued by Dottie's killing spoiled for showdown but were refrained by elders in the community who called for caution. They noted that Dottie's case was not the first time policemen would shoot youths in the community to death. They alleged that eight persons had been shot at same location where Dottie was shot. While four of them managed to live to narrate their ordeals in the hands of their assailants, others like Dottie never did.
Family petitions Police
Determined to find a lasting solution to the several killings and maiming of their youths as well as bring the perpetrators of late Dottie's killing to book, the family in a petition to the Area Command , Delta South , called for a dispassionate investigation into the killing.
The petition signed by the family's lawyer, Magnus Egin Etie and Company said " It is the brief of our clients that on the 18/12/16, Omayone Dottie and his wife  Amajuoritse Dottie went to grace a family friend's thanksgiving service at Redeemed
Christian Church of God, Great Shepherd's Parish based on invitation he received. Thereafter, the family attended the reception held in the family's friend house  located behind Open Heaven's Hotel. During the reception, Omayone Dottie received several calls from unknown persons or group of persons wanting to know his where about. Whenever he inquired who the callers were, they would cut off the  connection line. This information he gave to his wife who was carrying his two
children. Another call came to the late Omayone Dottie and the caller identified himself to be a policeman amongst the police team guarding the Petroleum and Petrochemical Marketing Company pipelines stationed at Ifie Town. It was then the late Ornavone Dottie informed the caller that he was in a dedication reception and would meet the caller after dropping his family at home.
Sounds of gunshots
'Dottie left his car some minutes after 6.00pm at home after dropping his family  and took a walk to the police team which was only three poles away from-his  house. Shortly after his departure, his wife heard three loud gunshots which she could not immediately tell where it came from, At that point, she decided to call her husband on phone which rang severally but were not answered. Our clients informed us that a neighbour and parents of Amajuoritse Dottie came to meet her and deceived her out of the house to her parents' house. It was in her parents' house that she was informed of the unlawful killing of her husband by the police team. Our clients further briefed us that the killers of Omavone Dottie did not inform the family or Omayone friends whose phone numbers were in the phone collected by the team from the deceased after he was shot dead. His body was deposited at the Central Hospital Mortuary.
Our clients briefed us again that in the early hours of December 19 2016, they went to the Central Hospital Mortuary to see if Omayone Dottie's corpse was deposited  there. To their chagrin, they found out that a team of policemen brought the
corpse which' was riddle with bullet holes. A brief examination showed that he was shot at from behind at a close range. The only reasonable explanation for this is  that it presupposes the fact that the late Omayone Dottie was defenceless as he
was not aware that the assailants wanted to attack him. It was obvious that the deceased was shot at while walking away from his killers. When they inquired to know the identity of the police team that brought the corpse to the Central Hospital mortuary , the attendants told them to wait until the policemen returned".
Police explanation
However when the police team arrived , the family said that they could not give any reasonable reason why its son was shot.
According to its spokesperson, Pastor Samuel Dottie, " when we inquired from them if they were the team that shot and killed Ornavone Dottie, they answered in the affirmative that Omayone Dottie was gunned down because he was found along the pipeline, an allegation that is baseless, most untrue and totally falseh. When we asked where the corpse was kept until it was brought to the mortuary the next day, the team leader confessed that after Dottie was shot, he was taken to the Nigeria National Petroleum' Corporation Clinic in an attempt to save his life but that the medical team at the clinic rejected him and referred him to the Central Hospital Warri for treatment on the ground that the matter has criminal coloration that required police authority before treatment would commence. The team leader confirmed that he was thereafter , taken to the Central Hospital Warri , where he was confirmed dead. That was when they took him to the mortuary.
Questions to be answered
Continuing, he said " the story that Dottie was found along the pipeline is an attempt to give a dog a bad name in order to hang it. The question begging for answer is ; whv did the police suddenly change their mind of killing him by attempting to save him and taking him to the Nigeria National Petroleum Corporation Clinic? Is there any law, directing the police to shoot at anyone found .along the pipeline? In other words, are policemen authorised to carry-out extra-judicial killing? Did Petroleum and Petro-chemical Marketing Company make any report since the December 18 2016 indicating that any of their pipelines was destroyed or tampered with? Where are the clothes of the deceased? All these are questions begging for answers which a dispassionate investigation will show.
We are therefore calling for a full scale investigation in this case with the aim of bringing the policemen responsible for this dastardly act to book. Tension is already building up in the community . It can only be doused if the law is allowed to take its course", he said
 Erring policeman arrested
Effort to reach the Delta state Police Public Relations Officer failed. But police sources at the command disclosed that the policeman who pulled the trigger which snuffed life out of Dottie had been arrested and dismissed from the Force . The policeman identified as Corporal Dauda Jero as gathered, was being detained at the Delta state Criminal Investigation Department , Asaba, from where he would be charged to court for murder.
But Dottie's widow claimed that his being charged to court would neither bring back her husband nor take care of the enormous responsibility the suspect' s action has plunged her into.
The pregnant woman who was taken away from her matrimonial home, asked in tears when sympathizers went to pay her condolence visit " Who will take care of our twins and unborn child? My husband was not wealthy but he showed us love , care and affection money could not buy. How do I explain to our 18 months old twins who keep asking after their daddy and our unborn child( touching her protruding stomach) that their father is no more. How do I bear the burden of sending them to school alone, a task we were barely managing to take as couple?
Crime Guard was also informed that the NNPC promised to take care of the burial expenses . But the bereaved family still insisted that they were more concerned about the children's welfare than just burial expenses.