ABUJA—The Senator Ahmed Makarfi-led Peoples Democratic Party, PDP, has urged the Appeal Court sitting in Port Harcourt, Rivers State to deliver the reserved judgment on the party's leadership feud pending before it.
The party made the call in a statement by its National Publicity Secretary, Mr Dayo Adeyeye, yesterday, in Abuja.
Adeyeye said the delivery of the reserved judgment would allow the PDP concentrate on its rebuilding process and provide alternative governance in the country.
He said: "It is no gain saying that any democracy without a viable opposition is considered a dictatorship, unstable, unhealthy and a recipe for anarchy.
"We also urge the National Judicial Council, NJC, to urgently do the needful in respect of the petition submitted against the Special Appeal Panel of the Court of Appeal, Abuja Division, by Senator Ali Modu Sheriff.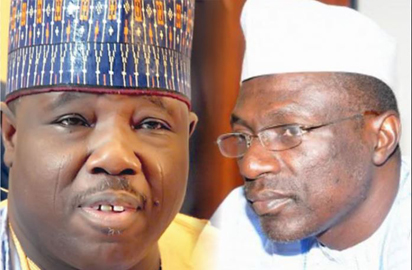 "The current petition, like the two previous ones, is another delay tactics he devised with his collaborators against justice to the PDP and its membership nationwide."
He commended the judiciary for its effort to actualise the principles of separation of powers, which he described as the main pillar of democracy.
"We, therefore, urge the courts to keep up the good work by maintaining independence on all matters brought before it," Adeyeye said.
Adeyeye, however, commended staff of the party for their peaceful protest on Tuesday to demand the unconditional and immediate reopening of the party's National Secretariat in Abuja.
The peaceful protest was carried out by the workers under the auspices of PDP Staff Welfare Forum.
The staff members also demanded speedy delivery of the judgment on the party's matters pending before the appellate court.
Adeyeye described the peaceful protest as a demonstration of their commitment to service, loyalty and dedication to the party's well-being, peaceful Nigeria and advancement of democracy at large.
He said it was PDP's believe that keeping its national secretariat locked since June 2016 till date was orchestrated by the ruling party to decimate and silence the party from providing viable opposition.
He said: "This is shameful, inexplicable and unfortunate. The PDP in 16 years did not interfere with internal affairs of opposition political parties or used instruments of state to shutdown their secretariats due to internal crisis or for anything whatsoever.
"We allowed all parties in the country to strive and stabilise our democracy for which the APC is the primary beneficiary of in the 2015 general election.
"These harassment and intimidation of the APC-led administration against opposition in Nigeria portend grave danger for democracy at large.
"We demand, as a matter of urgency, the unconditional reopening of the national secretariat of the PDP to allow staff access into their offices to carry out the duties of holding the government in power accountable."