ABUJA— Vice President Yemi Osinbajo has called on anti-corruption agencies in the country to step up their engagement with the Nigerian public, especially because there are still those who think when a politician, who is their kinfolk steals, it is permissible.
Osinbajo, made the observation earlier, yesterday, while meeting with a delegation of the Presidential Advisory Committee Against Corruption, PACAC led by its Chairman, Prof. Itse Sagay, SAN, at the Presidential Villa.
Osinbajo said: "How we communicate what is going on regarding corruption is important. There are still those who think a politician who steals is some kind of Robin Hood, instead of being vilified.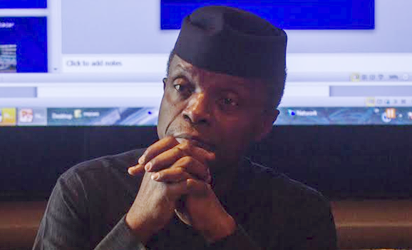 "Some people believe that if 'my kinsman' steals it is ok," stressing that it is important to completely delegitimise corruption especially through the way it is communicated.
He said: "I commend the excellent work you have done so far from the beginning," he told the PACAC delegation, adding that the committee has done very well removing skepticism as to whether an anti-corruption initiative can work well in the country."
In his comments, Prof. Sagay said PACAC had engaged with all anti-corruption agencies in the country, including the police and the judiciary.
"We are cooperating effectively well with them," he disclosed.
Sagay, who was accompanied by the Executive Secretary of the committee, Prof. Bolaji Owasanoye and members, including Hadiza Bala-Usman, Managing Director of the Nigerian Ports Authority, NPA, called for a harmonized National Anti-Corruption Strategy for the Federal Government.