•Says the gods moulded monarch, Obaseki for service
SIMON EBEGBULEM, BENIN CITY
Chief David Edebiri is the Esogban of Benin Kingdom and popularly known as the Oracle of the Kingdom. In this interview, he speaks on the suspension of one of the top chiefs in the kingdom, in fact the chief priest of the Oba, Chief Nosakhare Isekhurhe. He also speaks on the reforms Oba Ewuare II and Governor Godwin Obaseki of Edo State are executing.  He declares that the gods brought the Oba and Obaseki at this point in time to take Edo and the kingdom to the next level.
He also reacts to some national issues including the recent visit of Vice President Yemi Osinbajo to the South-South. Excerpts:
People were shocked by the suspension of Chief Isekhurhe by Oba Ewuare II. We have noticed some other radical reforms in the palace. What is your take on the development?
The new Oba of Benin has done a few things which are in tandem with the aspiration of the people. You talked about the suspension of a chief, I guess it is part of the reforms going on now. If you commit an offence, you face the consequence as tradition demands and the Oba does not make mistakes.
Let me also tell you that Oba Ewuare has done a lot of things such as the banning of CDAs. The CDA was becoming a hydra headed monster about to devour the entire populace. He came and stopped it and since then there is peace in all the communities. Though some of these communities are trying to play a fast one, you can be sure that Oba Ewuare II, being a renowned diplomat, he knows what to do.
Some people are trying to call the CDA a different name or name it in Benin language in order to perpetuate the same thing. We have a very learned Oba and some of the Chiefs around him too are not just the type of chiefs you push over, I think he has done well; his actions point to the fact that Benin people and Edo will be up for a very prosperous reign of the Oba.
One thing people may not have known about the present Oba is that he is a die-hard traditionalist. He keeps the tradition of his people close to his heart and he has always displayed that during the ceremonies we have gone through.
Where other people would have wanted to have it done half way, he did it thoroughly and would want to get to the real tradition; no half measure. His diplomatic shuttle across the world will not affect his love for the tradition of Benin people; he is here to make the kingdom greater.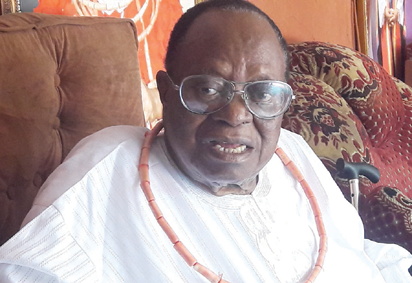 There is this seeming similarity between the Oba and Governor Obaseki in terms of the reforms they have embarked upon. Were they moulded for Edo at this time by the gods?
This is not the first time we are having such a coincidence and I will not blame you if you say they were moulded by the gods. But people don't remember things. The computer age is destroying people's memories that people no longer remember things. There was such a case in 1979, there was an election here in Edo and a new governor in the person of Prof.Ambrose Ali was sworn in.
That was the year Oba Erediauwa ascended the throne.  And the two worked together to bring peace, prosperity to this state. Many people do not know that Ambrose Ali has remained the best performing governor in this state. The second is Adams Oshiomhole. Yes, my friend Dr Ogbemudia performed when he was a military administrator,  he had all the powers to do anything.
He did well because other military governors did not do well like he did. But when we are talking of governors that performed in Edo, we are talking of civilian governors, Ali was the best governor until Oshiomhole came and that same coincidence happened when Erediauwa ascended the throne and Ali came as governor. This Oba is going to be very healthy, prosperous and it will be good for the people of Edo.
How do you assess Obaseki's administration so far?
All the steps so far taken by the government of Godwin Obaseki are approved by our people. What he has done so far though very quietly deserves the support of everybody in this state. Government is the umbrella that covers all of us and any body found wanting should be brought to book.
There should be no sacred cow, no preferential treatment for any body and I think that is what Obaseki's administration is all about. I endorse all he has done and I can assure you that, if he continues this way, Edo will be up for another progressive administration and the people will be happy.
The man may not be making noise but he is working and that is the truth of the matter. Obaseki has performed creditably, but you should know that he doesn't have a cabinet in place yet, whatever the governor is doing today he is doing with the help of his deputy and the SSG and I am sure very soon the state will have an executive council that will carry out the policies and programmes of his party.
We will continue to watch if these programmes and policies will be executed according to the manifesto of the party that brought them into power. But I know that Godwin Obaseki will not deviate from the right path.
If you speak so well about Ambrose Ali, it means he has not been accorded his due respect as we have observed?
That is one major problem we have in this country, not recognizing our heroes. When Ambrose Ali was governor, he  told Shehu Shagari that I was his greatest critic in the state. I was the Publicity Secretary of the NPN and he was in the UPN. No day passed without my criticism of his government but I limited my criticism to areas we will make political gains, meanwhile, in my heart of hearts I knew the man was performing.
And nobody who was alive then who could not testify to it  that Ambrose Ali was a performer. He was not making noise but he achieved. In the area of roads, all the roads in Benin City,  he tarred them. In Etete, Eworiaria, he built schools for the free education programme. Now that he has not been sufficiently remembered is not peculiar to Ambrose Ali, it is the malaise in the country.
And as a result of this I am going to run an NGO that will be devoted to those who had done distinguished service to this country at whatever level, who have been forgotten. The duty of the NGO is to call the attention of the government of the day to the activities of such people, dead or alive. It is going to be under the auspices of the NGO named Castle of Legends Initiative. Very soon we will come up with the first beneficiary who incidently is my role model in politics, late Chief Anthony Enahoro, the Adolor of Uromi.
Enahoro was one of those people the country never acknowledged even while he was alive for the services he rendered for the country's independence and after independence. Nobody thinks about him today, so we will try as much as we can to call the attention of those in authority to such people.
Not only politicians, there are other citizens who have rendered services in other spheres of human endeavour but who have been completely forgotten. For example, there was a police man here in Benin, called Okokobioko. Okokobioko was a nick name given to him in Lagos because he was a thief-catcher.
At that time Benin was haven for thieves; in the night or daytime, they will break your wall and enter your house. It went to the extent of attracting the attention of the Federal Government. The Benin Traditional Council applied to the government to send Okokobioko to Benin from Lagos, to come and help save the situation.
He came and in a matter of three months Okokobioko rounded up all the thieves in Benin. Today such a man is not remembered  and he is a Benin man. He died 15 years ago and nobody is thinking about such a man. Such people should be remembered, immortalized.
Assessing Buhari's administration
I have always been an ardent supporter of the present Federal Government headed by President Buhari. He started well and I want to say with all sense of responsibility that he is  on course. The different theatres of war the man is fighting are producing good results. In the war front, he has been able to decimate the Boko Haram insurgency in a manner that they are in disarray.
I can imagine if Buhari did not come, by now, Boko Haram would have taken a large part of this country. His war against corruption is also progressing. But what people are saying is that we have seen a lot of them return money but no casualty yet. What Nigerians will like to see is that some of these people should be tried  and jailed.
One thing that has been absent is that these looters have always gone free each time they return the money, no stigma. Buhari should make a law that all those found guilty, whether they return money or not, should be prevented from holding public office for a number of years, that is stigma that will make people stop stealing.
Osinbajo's visit to the S/South
It is a pity that they have allowed their children to ride them and that is why we found ourselves in this problem. Some people will take up arms to destroy our patrimony, not the property of the South-South people alone, who will benefit from such destruction? What will it benefit our people from destroying these property apart from the environmental degradation such action brings to the people of the South South, the economic hardship that is now visiting all of us? I do not see what good that brings.
My advice is that the leaders in the South-South should appeal to their militant youths to think of the Nigeria people first. They should think of the country as a whole and not because of one man take up arms to destroy our oil. I advise that we listen to the Vice President in his present peace mission in the area. South-South people are facing poverty and they should allow the Federal Government to come in.