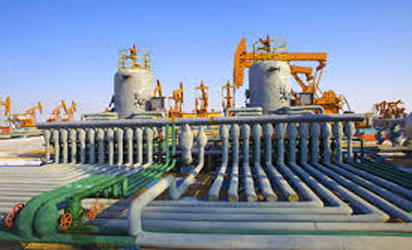 Oil Pipe
By Prince Okafor
LAGOS— San Leon Energy Plc, the AIM-listed company focused on oil and gas development and appraisal in Africa and Europe, said reperforation operations at wells in Oil Mining Lease, OML, 18 onshore Nigeria, increased production to about 61,000 barrels of oil per day (bpd).
Reperforation is the creation of holes in oil well tubing. The increase in production is expected to boost Nigeria's output.
According to the company, "the well has now been temporarily shut in to allow minor production upgrades and additional workover operations. The reperforation programme will continue to be implemented across a number of wells in this field in the coming months."
Elsewhere, San Leon said it was expecting new production from at least two other Nigerian oil prospects during the first half of this year.
It will be recalled that Nigeria is exempted from an agreement crafted by the Organisation of Petroleum Exporting Countries, OPEC, to cut production next month because of militant attacks on its oil sector.
The managed decline is aimed at bringing the market back to a reasonable balance between supply and demand. An oversupplied market pushed crude oil prices below $30 per barrel in early 2016.
Nigeria's oil sector is the target of militants frustrated with a government suspected of misdistribution of the oil wealth. The nation's economy is in recession, with third quarter growth shrinking by 2.3 percent year-on-year.
Nigeria reported to OPEC that its crude oil production in November was near 1.8 million bpd, a 28 percent increase from the previous month.
The company recently provided an update on operations and cash flow receipts related to its initial indirect 9.72 per cent interest in the OML 18 project, onshore Nigeria.
The electric line operations have now acquired water saturation logs within a group of wells, and perforation of new producing intervals has commenced based upon that data.