By  Ikechukwu Nnochiri
ABUJA—A building contractor, Mr. Linus Nwamba, yesterday, said that Justice Sylvester Ngwuta of the Supreme Court,  who is facing money laundering charges, handed him over N313 million within nine months.
Nwamba, who testified before a Federal High Court in Abuja as the first prosecution witness, PW-1, said Justice Ngwuta gave him the money in cash, between January 4 and September 2016.
The witness who was led in evidence by government lawyer, Mr. Charles Adeogun-Philips, narrated to the court how the embattled jurist called him barely 24 hours after he was released on administrative bail by the Department of State Service, DSS and directed him to go to his residence in Abakaliki in Ebonyi State and remove N27million he hid in his bathroom.
He said Ngwuta who made the call via through unregistered telephone line, equally mandated him to dispose off three exotic cars that were parked at his residence in his home town, as well as a bag containing several documents.
Ngwuta is facing a 16-count charge of money laundering, age falsification and alleged illegal possession of multiple international passports.
He was docked before the court on November 21, 2016 and subsequently granted bail in the sum of N100 million.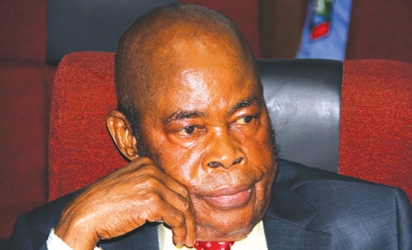 In his evidence-in-chief, the PW-1 who is the owner of Base4 Services Limited, told the court that his first encounter with Justice Ngwuta was in 2015.
He said: "The defendant in this case is my customer. I was introduced to him by someone who told me that he was in need of a reputable firm or individual to handle certain building and construction work for him.
"The person's name is Mr. Kenneth, a motor mechanic. On December 31, 2015, which was the first day I met the defendant, he showed me an empty plot of land close to his house and told me the structures he would want my company to design and build for him.
"I took the brief, assembled my workers and we came up with designs of those buildings he mentioned and built them as well. The structures he asked me to construct were a storey building library block, a four bedroom bungalow with kitchen, all self-contained, to reclaim a plot that was swampy and make it habitable, to also raise two four detached bedroom duplexes and to put a huge fence to contain all the structures and connect it with the existing ones. And to build a car park to house some vehicles.
"After I got the instruction, I prepared my drawings and designs and took them to him for approval on January 2, 2016. He was satisfied with our presentations and designs.
"I saw the defendant again on January 4. I presented my bill to him through my quotations for payment. The amount I quoted was N148m.
"The defendant did not agree to pay the amount. He offered to pay N130m. On that January 4, I was mobilised to commence work for the defendant. He gave me N40m in cash comprising N25m and equivalent of N15m in US dollars..
"There was no formal contractual document between us. There is no record except for acknowledgement in some of my quotation papers and notes the defendant gave to me. Deadline for completion of the project was October 2016, which was 10 months. I achieved the deadline and I was fully paid for the project all in cash both in foreign and local currencies.
"I cannot recall how much exactly was given to me in foreign currencies. That was however, not the end of my relationship with the defendant. We had another construction project at Onwe Road in Abakaliki, Ebonyi State.
"The project involved demolition of a dilapidated  building, sand-filling the area to achieve a reasonable level because it was very down from the road and then the construction of four units of four bedroom duplexes for commercial purposes."
"My quotation for the second project was N165m. The defendant has not paid me all the money. So far I have received a total of N100m. The project is up to 70 percent completion. He gave me the N100m in cash, record of the payment is on my quotation sheet. I got the cash in both foreign and local currencies. There was no specific deadline for the project.
"There was also another re-construction project at Amofia Ukagwu, Onicha LGA in Ebonyi. The project involves demolition of a poorly built structure and to erect a duplex with a pent house, a boys quarter, fencing, painting, a gate-house and decoration.
"The agreed project cost was N110m. I received N83m out of the amount from the defendant by cash and money transfer through the bank. I got N53m in cash, both in local and foreign currencies. The balance was sent to me through inter-bank transfer from Union Bank to my account in Zenith Bank.
"Deadline for completion of the third project was December 2016. We commenced the project in June. The total amount I received for the three projects was N313m from January 4 to September 2016.
"Indeed I was deeply concerned and bothered about receiving such huge amounts of cash from the defendant. I was concerned about the safety of the defendant and the huge cash around him. I was not previously accustomed to receiving such huge amounts of cash from my customers.
"At one point ,I raised my concern to the defendant. He told me not to bother because those were proceeds from his work and overseas conferences and other assignments he engage people to do for him.
"He said that he got his money legitimately and saved it. He said that he attended conferences of Supreme Court Justices and other such conferences where he was paid in hard currencies and that he never went on holidays overseas like other Judges.
"I had contact with the defendant on October 9, 2016, shortly after his arrest through a certain un-saved number. He called and told me that I should go to his residential building. That he doesn't know what was happening at his house in Abuja. That I should enter his bathroom and remove some bags and items there.
"That I should move the items out. That he was afraid because his house in Abuja was evaded by security operatives. So I proceeded and did exactly what he told me to do.
"I was at Abakaliki doing some of the construction work when the call came in. I believe the defendant was in Abuja when he made the call with a number not familiar to me. The call was in the afternoon.
Subscribe for latest Videos