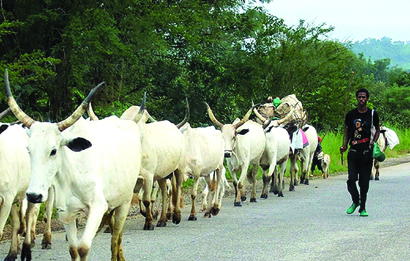 *Cattle
The Miyetti Allah Cattle Breeders Association of Nigeria (MACBAN) says it's members have lost over one million cattle and other livestock to Boko Haram insurgents and rustlers in the North-East
The North-East Vice Chairman of the association, Alhaji Mafindi Danburam, disclosed on Thursday in Yola in an interview with newsmen.
Damburam said that while most of the union's members in Adamawa, Borno and Yobe lost their livestocks to Boko Haram, those in Bauchi, Gombe and Taraba states lost theirs to rustlers.
He appealed to government to consider the affected herdsmen in its resettlement and rehabilitation programmes for the North-East.
He said that the typical herdsman knew no other business than rearing and needed to be assisted to do what he knew best.
"A typical herdsman knows no other business than rearing his cattle and such person who is now rendered redundant and idle needs to be supported to pick up his life before he joins bad company and becomes a problem.
"Government needs to consider affected herdsmen under its rehabilitation programme for North-East, particularly the much- talked about North-East Development Commission," Danburam said.
The vice chairman, who was in Adamawa over the latest farmers/herdsmen clashes, sued for peace and the need to embrace dialogue.
He observed that some of the crisis were not really between herdsmen and farmers as being reported but between herdsmen and rustlers.
"In some of those states, particularly Taraba, the problem is mostly not between us and farmers but between us and rustlers," he said.