ODIEREKE—THE traditional ruler of Ekpeye Kingdom, Ahoada West Local Government Area, Rivers State, HRM Eze Robinson O. Robinson, has warned political opponents of the former Deputy Speaker of the House of Representatives and Esama Ekpeye (The Full Moon) of Ekpeye Kingdom, Hon Prince Chibudom Nwuche, to desist from the plan to kill him and tarnishing his image or face the fury of the people and their ancestors.
The monarch, who spoke at his palace in Odiereke while addressing his subjects, including Nwuche, who paid him a visit, during the Yuletide, condemned the attempt on Nwuche's life by his detractors, who also sponsored armed thugs to raid his office, describing such acts as barbaric and primitive.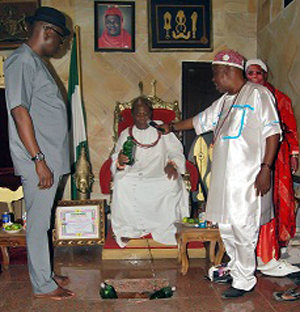 He also said that some desperate politicians had been using security agencies to harass Nwuche and the attacks on his person increased after he joined the All Progressives Congress, APC, in the state.
His words: "The recent ordeal of the Ekpeye prince in the hands of security agencies is sponsored by his political enemies, who are afraid of his profile and independent mindedness. They leave Prince Nwuche alone or face the wrath of Ekpeye people and their ancestors, who will not hesitate to name them soonest and also expose them to Nigerians."
Appointive positions
The king further asserted: "It is indeed sad the extent people can go to bring down innocent people just for political reasons and stop them from aspiring for elective or appointive positions. I want to say that Nwuche is a worthy son of Ekpeye, who has made his people proud and so the entire country and having served Nigeria at the highest level of governance as deputy speaker, a position he held with all dignity, candour and integrity and served out his tenure meritoriously without blemish.
"I, therefore, wonder why anybody will turn around today to pour tar on the person, who since leaving public office, 14 years ago, has never been found wanting or invited by any agency for any misdeed on account of his stewardship," he said.
The monarch asserted that information available to him indicates   that "these attempts by the detractors of Prince Nwuche, who by chance are privileged to be in authority and positions to manipulate government agencies
criminalize and taint his business in bad light are all in an effort just to frustrate him.
"Besides, they are also instigating false petitions and negative media write ups against him all in a bid to silence him politically and prevent him from speaking for Ekpeye people, " he added.
He called on Niger Delta sons and daughters to use their positions of authority to better the region; instead of pulling each other down, lamenting that the region was in desperate need of development and not destruction of its best minds and prominent national figures like Prince Nwuche.
The monarch also cautioned called security agencies not to allow themselves to be used by desperate politicians in their inordinate ambition to bring down their political enemies, but to thoroughly investigate those behind the attempt on Nwuche's life and false petitions against him, and bring the perpetrators to justice.
He anointed him as the political leader of the Ekpeye kingdom, saying that he demonstrated leadership qualities he served as deputy speaker of the House of Representatives and even more when he is not holding any political office by placing the kingdom's development as the topmost of his priorities.
Economic  growth
"I urge the entire Ekpeye people to rally round Prince Nwuche to change the fortunes of the kingdom, which has been neglected and marginalized despite our huge contributions to the economic growth of the country," he said.
Hon Nwuche had earlier in his speech, on behalf of Ekpeye delegation, told the monarch that the people were in his palace, to rejoice with him on his successful medical trip overseas and also thank him for his sterling leadership he has provided them since he ascended the throne.
He said: "The people are especially happy with your role in ending the recent security crisis that threatened the existence of Ekpeye in which some misguided youths took up arms against the kingdom, leading to the killing of many Ekpeye sons and daughters and kidnap of many, as well as raping of women."
The former deputy speaker also advised the youths to shun all forms of criminality and take advantage of the Amnesty offer of the Rivers state government to toe the part of peace and continually support the king to attract more development to Ekpeye kingdom.