By Nwabueze Okonkwo, Onitsha
WHEN the multi-million naira timber market located at the outskirt of Nkwo market, Nnewi, Anambra State caught fire few minutes past midnight on Thursday, January 5, not all the timber dealers in the market were immediately aware of the development. Some of the timber shed owners were still in their respective villages celebrating the last Christmas and New Year festivities, while those who were in town were fast asleep given the odd hour. Many of them also probably switched off their phones.
Only few of the traders whose phones were on at the time of the incident were contacted by market officials. Those who could not be reached on phone woke up in the morning to hear that a greater portion of the market had been  razed, with goods worth N1.5 billion lost.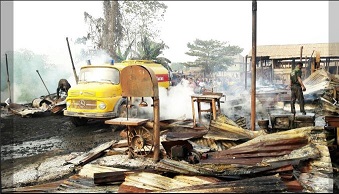 It was said that on hearing about the inferno and the  fact that it destroyed their recently installed, expensive  saw and age-way machines as well as timbers and planks in their various shops, some of the affected traders either developed high blood pressure, slumped or went into coma and were quickly rushed to nearby hospitals. Since the unfortunate incident, the state government officials, market leaders, individuals and corporate organisations had been visiting the scene to express their sympathy  and to make some cash donations and offer words of comfort.
Funds to procure  the machines
Many of the victims, including Chibundu Obi, Sunday Eze, Livinus Ogbuele, Ifeanyi Ibenyi and Benjamin Muokwe, are still mourning their losses. For Chibundu Obi, who claimed to have lost two saw machines valued at N900,000 and one age-way saw valued at over N500,000, life has become a misery with nothing to look forward to but a bleak future.  Obi said: "I bought the age-way saw last December 2016 to support the two saw machines I bought three years ago; all were destroyed in the fire. I equally lost over 700 pieces of polines. I did menial jobs for years before I was able to raise funds to procure the machines but now I am back to square one. I am, therefore, relying on God to survive this fire disaster."
In his own case, Sunday Eze, a father of seven children, lamented that he equally lost two saw machines valued at N500,000 each, an iron table worth N450,000 and an age-way machine worth N370,000. Another victim, Livinus Ogbuele, said he lost 270 pieces of 4×12 timbers worth N4,500 each; 40 school lockers worth N4,000 each; 40 back chairs worth N2,000 each; 40 cupboards worth N5,000 each; 20 stools worth N1,000 each and 40 old doors worth N5,000 each.
Ifeanyi Ibenyi, a carpenter, said he lost seven tools worth millions of naira; 36 old doors worth N6,500 each, 46 pieces of designing doors worth N7,000 each; 27 pieces of 4×6 frames N3,800 each; carpentry tools and office tables worth N65,000.
Benjamin Muokwe said he lost five machines that cost him N4.5 million each, though the current market price, according to him, is N6 million per machine.
Anambra State Commissioner for Trade, Commerce, Markets and Wealth Creation, Mrs Amaka Ilobi who visited the market on behalf of the state government the following day to assess the extent of damages and commiserate with the victims, disclosed that government would re-design the market in such a way that future fire outbreak could be forestalled.
The commissioner said: "Looking at the debris at the scene, all the materials used in constructing the shops before the incident are highly inflammable, apart from the diesel used in powering machines in the market. Therefore, government will reconstruct the market, giving it a prototype design that would resist fire".
She added that government always had a premonition of fire outbreaks and had to advise that traders should make available fire extinguishers, do good electrical wiring and give enough space within the market to enable fire fighters have access to fire.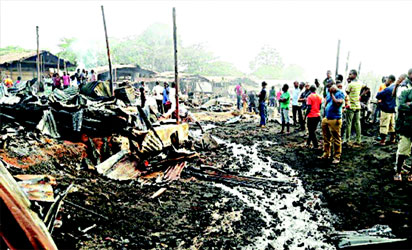 Thanking God that the fire did not spread to Agboedo Main Market which is few metres away, Mrs. Ilobi said she would not pre-empt Governor Willie Obiano whom she described as a caring governor on what the state government would do for the traders to cushion the effect of their colossal losses.
"Our government is people-oriented. It feels the pulse of the electorate and that is why we have come. The Deputy Governor, Dr Nkem Okeke, has already come and our Governor is aware of what has happened but I will not pre-empt him. In this period of recession, our government is even thinking about how people will survive this hard time. He would not be happy to see the electorate suffering," the commissioner stated.
In his speech, the President-General of Amalgamated Markets Traders Association of Anambra State, AMATAS, Chief Okwudili Ezenwankwo, who accompanied the commissioner to the scene, appealed to the state government to provide two fire service stations in each of the major markets in the state as a pro-active measure against fire outbreaks.
Pro-active  measure
On a sympathy visit to the scene, Mr Godwin Ezeemo, an industrialist based at Umuchu, Aguata Local Government Area of the state and a governorship hopeful, commiserated with the traders and made a cash donation of N500,000. Announcing the donation shortly after he was conducted round the scene by the chairman of the timber section of the market, Chukwunonso Nnaetu, Ezeemo called on other well-meaning people of the state to rally round the victims of the fire  disaster in line with the well known Igbo culture of being their brother's keepers.
He said the cause of the fire should not be far-fetched as poor infrastructure is evident at the market and thanked God that no life was lost. "With timber being a combustible material and as inflammable as petroleum products, it is indeed worrisome that a market of such importance in Anambra business life was left unguarded, with bushes surrounding it and no wall to protect the merchandise against infiltrators," Ezeemo lamented.
While attributing the cause of the fire outbreak to poor infrastructure and management of the markets, he urged the market leaders to look inward and organise themselves well to avoid future occurrence.
Ezeemo added that major markets, especially those with products like timber, should have fire services stations sited nearby in case of eventuality, and traders more cautious during the harmattan season. He also called on the state government to do the needful as the timber market is as important to the economy of the state.
Future occurrence
He urged traders to do their bit by paying up their levies and taxes, and noted that it was after their exercise of such civic responsibilities that the government would be able to fulfil its obligation to build solid structures and facilities that would protect the wares of the traders. "This fire was preventable but due to negligence of responsibility which should have been addressed before now, the incident occurred but it is time those things are addressed this time around to avoid future occurrence," Ezeemo said.
He also encouraged the victims not to lose hope but to take heart as they would eventually survive their losses.
Responding, chairman of the market, Nnaetu told Ezeemo that no fewer than 155 stalls were consumed by the fire, while over 500 machines, timbers and planks were damaged. Nnaetu, however, described Ezeemo's visit to the scene as an indication that he has the interest of the traders at heart and appealed to both the state government and individuals to come to their aid.