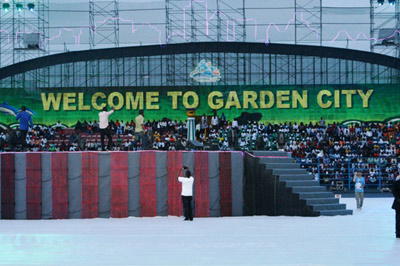 Garden City Games …. The stage of the opening ceremony for the 17th National Sports Festival in Port Harcourt yesterday. Photo: Henry Unini
By Kingsley Adegboye
PROSPECTIVE home owners who desire to live in a serene and quiet environment compared to only Government Reserved Areas (G.R.As.), may have had their dreams fulfilled with the development of 37 acres Honeywells Garden Executive, a fully residential estate designed to provide affordable and modern living experience in a very conducive, serene and safe area of Onigbongbo, Maryland.
Specifically located at Wasimi area of Onigbongbo, the mixed development housing estate comprising three-bedroom flats, four-bedroom terraces, four-bedroom semi detached, five-bedroom detached and service plots of 500 sqms and 640 sqms per plot respectively, is designed to cater for housing needs of medium and high income earners.
Being developed by Tobykemsworth, a Lagos-based property development firm, the estate is expected, on completion, to have state of the art facilities such as dedicated PHCN transformer, adequate back up power supply, borehole and centralised overhead water system, water treatment plant, executive gyms, mini swimming pool and green areas as well as sound security/CCTV surveillance.
Other services to be found in the estate include professional facility management, weekly gardening of common areas, daily cleaning of common areas, professional gym house, 24 hours security service and daily maintenance of landscaped areas. The housing types are expected to be finished with fitted kitchen with granite platform, ceramic wall tiles and stainless steel, customised kitchen burner/hood, customised kitchen cabinets, car space for two cars per unit and contracted security house for 24 hours surveillance.
Speaking at the project site, weekend, the managing director and chief executive officer of Tobykemsworth, Adekunle Raphael-Monehin, who noted that not less than 50 residents would be handed their keys into their housing units 18 months after the commencement of the project, added that service plots buyers could even finish and move into their houses under one year depending on their response.
Strategic location
Raphael-Monehin, an engineer, who said the cost of a service plot is between N30,000000 and N35,000000, disclosed that the selling point for the estate is that the garden is located at the centre and heart of Lagos State which is Maryland, pointing out that Maryland is a highly commercial and residential area of Ikeja.
He said that the need for a strategically located estate informed the decision of his firm to embark on the project, adding that the location is a few minutes drive to Sheraton Hotel and Protea Hotel, Ikeja and Ikeja International Airport.
According to him, the area is well developed with banks, shopping malls, fast food centres, schools, parks and lots of centres of attractions, while the estate is also strategically located in the sense that there will be a link road from Opebi to Maryland which is expected to  commence by the government next month.