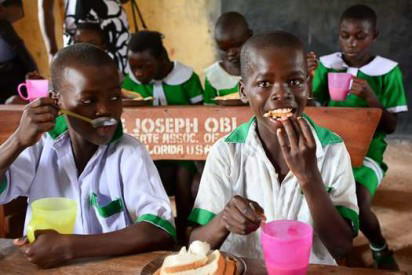 SCHOOL FEEDING

As President Muhammadu Buhari's administration proceeds with the implementation of its Social Investment Programmes, the Federal Government has released over N375 million this year to feed almost 700,000 primary school pupils in five states, while virtually all states of the federation, except two, are now being processed for the payment of N30,000 monthly stipends to 200,000 graduates, the N-Power Beneficiaries.
Giving an update in Abuja, yesterday, Senior Special Assistant on Media and Publicity to the President, Office of the Vice President, Mr. Laolu Akande, said that the Buhari Social Investment Programmes, SIP, are proceeding at different stages of implementation.
According to him, "regarding the Homegrown School Feeding Programme, the Federal Government, last week, released money for this year, to Anambra, Ogun, Oyo, Osun and Ebonyi states to cover the feeding for 10 school days."
It said that about N375, 434, 870 has just been released and paid to 7,909 cooks in those states for the feeding of a total of 677, 476 primary school pupils.
The breakdown is as follows: Ogun State got a total of N119, 648, 900 paid to 1,381 cooks to feed 170, 927 pupils; Ebonyi State got N115, 218, 600 paid to 1,466 cooks to feed 164, 598 pupils; Anambra State got N67.5 million, paid to 937 cooks to feed 96,489 pupils; Oyo State got N72.2 million paid to 1,437 cooks to feed 103, 269 pupils and Osun State got N867,370 paid to 2,688 cooks to feed 142, 193 pupils.
"All monies are paid directly to the cooks and cover 10 days of school," the statement added.
Akande added that later this week, these figures would go up when Zamfara and Enugu States are expected to be paid N188.7 million and N67.2 million respectively.
"In Zamfara State, the sum would be paid to 2,738 cooks to feed 269, 665 pupils and in Enugu State, the sum would be paid to 1,128 cooks to feed 96, 064 pupils," he added.
He noted that by then, over N631 million would have been released so far in 2017 for school feeding in
seven states, paid to 11,775 cooks and meant to feed over one million primary school pupils. The exact number of pupils by then would be 1, 043, 205.
On N-Power, Akande stated that the process of payments of verified graduates who are beneficiaries has advanced and at different stages of progress in all but two states, noting that more and more of such beneficiaries are posting their positive experiences of receiving alerts on the social media.
He said: "This means that payment of the December stipends which have gone across the country would be completed in all states except two that did not meet the extended deadline for the verification process for December stipends."
He disclosed that the processing of January stipends was also in advanced stages.
He assured some beneficiaries who have issues to remain patient, while observing that quite a number of the beneficiaries have banking information irregularities.
He said the payment of the unemployed graduates which has created a huge buzz across the country especially on the social media, is being done in batches.
Regarding the Conditional Cash Transfer, CCT, he said payment continues in the nine pilot states of
Bauchi, Borno, Niger, Kogi, Cross River, Osun, Oyo Ekiti, and Kwara States.
"While payment challenges are being experienced with the banks in some of the states, beneficiaries continue to receive their stipends which are being paid for two months. A total sum of N10,000 is being paid for the CCT beneficiaries to cover December and January. The CCT payments would be done six times in a year, with a payment of N10,000 to cover two months," he added.