By Chris Ochayi
ABUJA- Wives of eight state governors whose initiations and pet projects are said to have positively touched the lives of the people have been selected to receive the most covetous awards of the Most Valuable Governors' Wife prize.
One of the beneficiaries of the award is the wife of Willy Obiano, the Governor of Anambra State, Mrs. Ebelechukwu Obiano, whose pet project, the Caring Family Enhancement Initiative, CAFE, undertook and successfully treated 40 mentally challenged persons.
The organisers of Most Valuable Governors' Wife Awards, MVGWA, while addressing newsmen in Abuja said that the award was in recognition of selfless services of the selected eight women to humanity.
Chairperson of the organising team, Dr. Bilkisu Magoro and MVGWA leader/COE, Tom Obulu, respectively, told newsmen that projects initiated by the Governors wives have positively affected the lives of so many people within their state, hence their selection for the 3rd edition of the most covetous awards;   Most Valuable Governor's Wife Awards.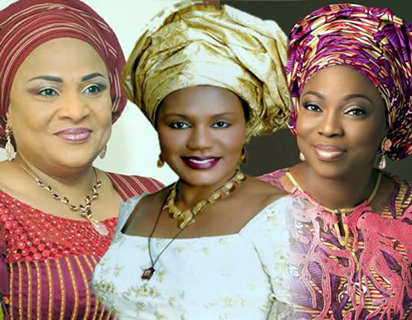 Pencilled down for the award slated for February 28, 2017 include Bauchi State, Hajia Hadiza Abubakar, Bayelsa State, Rachael Dickson, Kebbi State, Dr. Zainab Bagudu, Nasarawa State, Hajia Mairo Al-Makura, Niger State, Dr. Amina Bello, Lagos State, Mrs. Bolanle Ambode and Oyo state, Mrs. Florence Ajimobi, respectively.
Dr. Magoro noted that the theme of this edition of the award is: "The roles of the governors' wives NGOs in helping the Internally Displaced Persons, lOPs, in Nigeria",
She said, "The MVGWA is designed to lead a new phenomenon in the assessment and recognition of the Governors' wives who are providing complementary achievements to the Governors' achievements.
"The Governors' wives have become part of the democratic team that have been providing grassroot development."
Magoro said "The 36 Governors' wives and the wife of the FCT Minister are assessed based on their projects availabilities in the public domain and their impacts on their beneficiaries are considered.
"Thereafter, the Governors' wives shortlist comes from impact of their projects experienced by the beneficiaries in their various localities with the Assessment Team of the MVGWA, adopting these criteria; Sustainability, Empowerment, Impact, Change Agent and Corporate Branding, SEICC."
She added that the award night has a dual highpoint; the awards to the governors' wives and the unique patrons award to the wife of the President of the Federal Republic of Nigeria, Her Excellency, Mrs. Aisha Buhari.