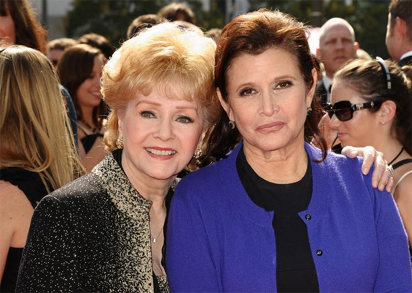 Debbie Reynolds & Carrie Fisher
A joint memorial service and side-by-side burial are being planned for mother-and-daughter Hollywood stars Debbie Reynolds and Carrie Fisher, who died a day apart earlier this week in Los Angeles, the family said on Friday.
Todd Fisher, son of Reynolds and younger brother to Carrie, said that he caught a glimpse of hummingbirds at a cemetery site at Forest Lawn Memorial Park in the Hollywood Hills.
This, he noted convinced him it was the ideal spot for their final resting place.
"That's the way it was meant to be," Todd Fisher, 58, told Reuters, recalling that his mother, the Oscar-nominated singer and actress, had a special fondness for hummingbirds, which were regular visitors to the grounds of her Beverly Hills home.
Fisher said he and other relatives were gathering this weekend to firm up funeral arrangements, including dates.
He said the family was planning two private events – a joint memorial celebration and a burial of his mother and sister next to one another at Forest Lawn – to be followed by some form of public commemoration of the two women.
Reynolds, who sang and danced her way into the hearts of moviegoers in such Hollywood musicals as "Singin' in the Rain," suffered a stroke and died on Wednesday at the age of 84.
Her daughter, Carrie Fisher, best known as Princess Leia in the "Star Wars" films, died a day earlier on Tuesday, four days after suffering a heart attack on a flight from England, where she had been shooting the third season of a British television comedy. She was 60.
Carrie and Todd Fisher were both born to Reynolds and the late singer Eddie Fisher, whose marriage ended in scandal in 1959 after the crooner began an affair with actress Elizabeth Taylor.
Todd had in an interview on Friday on the ABC News programme "20/20," elaborated on his mother's final hours, insisting "she didn't die of a broken heart" but rather "just left to be with Carrie."
"It wasn't that [Reynolds] was sitting around inconsolable, not at all," her son recounted in excerpts from the interview published by ABC.
"She simply said that she didn't get to see Carrie come back from London, and expressed how much she loved my sister.
"She then said she really wanted to be with Carrie," he added. "In those precise words, and within 15 minutes from that conversation she faded out, and within 30 minutes, she technically was gone.''