By Babajide Komolafe
THE Central Bank of Nigeria (CBN) will resume sales of dollar proceeds of international money transfer (IMT) to bureaux de change (BDC) operators next week.
CBN Governor, Mr. Godwin Emefiele, disclosed this during a meeting with executives of Association of Bureaux De Change Operators of Nigeria (ABCON).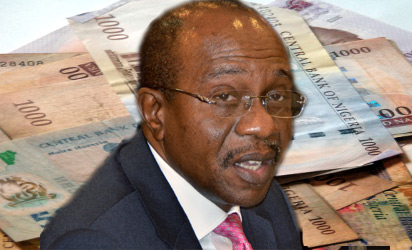 ABCON President, Aminu Gwadabe, confirmed this to Vanguard, saying that the CBN governor also dismissed as untrue speculations that the apex bank would reintroduce mandatory caution deposit of N35 million.
CBN had returned the mandatory caution to BDCs last year following the cancellation of direct sales of dollars to them. It commenced the sale of dollar proceeds of IMT to BDCs in August last year as part of measures to boost dollar supply in the retail segment and also stem the depreciation of the Naira in the parallel market.
However, the sale was suspended last month due to the Christmas and New Year holidays.
Emefiele told ABCON executives that the apex bank will resume dollar sales to BDCs so as to ensure stability of the Naira exchange rate.
Gwadabe told Vanguard that CBN governor also warned against speculation against the value of the Naira, assuring that the apex bank will not devalue the Naira contrary to predictions in some quarters. The CBN governor also asked BDCs to shun speculation and ensure compliance with all regulatory requirements.
Regulatory requirements
Gwadabe said the CBN governor commended efforts of the Association to publish weekly exchange rates for BDCs, in order to enhance transparency and confidence in the market.
The meeting with the ABCON executives was aimed at exploring measures to narrow the wide gap between the interbank exchange rate and the parallel market rate. The interbank exchange rate closed at N304.5 yesterday awhile the parallel market rate closed at N495 per dollar.
Recall that ABCON launched weekly exchange rate quote for BDCs as part of efforts to encourage Nigerians in Diaspora to patronise the official channels to remit their dollars.
Speaking at the launch, Gwadabe said the Association will also introduce full automation of BDC operations in Nigeria, saying about 2000 BDCs have already been enrolled in the online platform established for this purpose.
Gwadabe said that these measures were aimed at boosting confidence in the foreign exchange market and hence encourage Nigerians in diaspora to send their dollars through the official market. "It is believed that Nigerians in diaspora remitted about $35 billion into the country last year. We believe if all these dollars were remitted through the official channels, the naira will appreciate significantly, and the gap in exchange rates would be eliminated", he said.
He noted that the challenge facing the nation's exchange rate, especially the recently introduced flexible exchange rate regime is liquidity, adding that the solution is to ensure transparency via harmonisation of exchange rate, which would in turn boost confidence in the market and encourage dollar inflows.