By Onwuchekwa Ogundu
Successive administrations in Imo State, have, over the years, appealed to wealthy businessmen and women of Imo origin, to "come home and invest".
It is on record that Chief Rochas Okorocha, has variously travelled abroad in search of the apparently elusive foreign investors more than any past Imo Governor. Events have shown that the visits sadly turned to mere expensive jamborees.
Mention must also be made that before now, some of these indigenous wealthy businessmen responded positively to this appeal and set up their establishments in the state. Truth is that some of these businessmen have either closed shop and relocated to safer grounds, or are merely struggling to survive.
Government appeals ultimately midwifed the birth of International Electronics, Electrical and Automobile Market Association, INTEEAMARK, and championed by Chief Sylvanus N. I. Ozoemena. Now, a recap of the events.
This Market, as conceptualized by the promoter and the immediate past Governor, Chief Ikedi Ohakim, is completely private sector driven.
The body is an association of dealers in electronics, electrical and automobile parts from across Nigeria. It is duly registered by the nation's Corporate Affairs Commission and set up for the sole of building and operating an international market in Owerri.
A Certificate of Occupancy for the land at Naze, Owerri North local council area had been issued by government in favour of INTEEAMARK.
On October 7, 1994, government had, vide a letter MLSUP/COM.S 12, signed by the Commissioner for Lands, Survey and Urban Planning, Arc. Johnny O. Ngonadi, directed INTEEAMARK to pay a "development levy of N100,000 per half a hectare of the said land".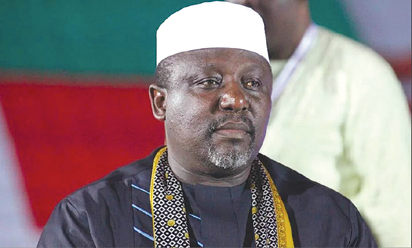 On April 23, 1996, the Director of Lands, Mr. E. T. Ohanele, wrote to acknowledge receipt of the sum of N781,500 being full payment of compensation in respect of the 24 hectares of land acquired at the Name Road Industrial/Commercial Layout, Owerri.
The Ministry however warned that "any development on the proposed site will be in accordance with approved building plan".
Between 1996 and 2015, the INTEEAMARK leadership continued to seek approval for the site plan, for the execution of the project.
Responding to an earlier letter from INTEEAMARK, the Head, Town Planning/Open Spaces Department, Mr. M. K. Nnaji, vide LOW/3094/T/84 of October 9, 2015, wrote: "I am directed to refer to your letter, INTMKT/NC/24.8/93.03, dated March 12, 2015, and convey to you, the Acting Permanent Secretary's approval, Surv. C. A. P. Anele, for the adoption of the INTEEAMARK Project Layout Plan.
" The attached print copies of the Layout Plan Drawing No. OW/62, drawn on a scale of 1:1000, will serve as a guide in the development of the Market ".
Armed with the Layout Plan, INTEEAMARK leadership quickly engaged the services of a developer and they mobilized to site and commenced work. They were however shocked beyond description, when they learnt that some trespassers, who were acting for the state government, had destroyed the work already done on the site.
Apparently worried by the ugly development, INTEEAMARK sent a four-page letter, "Appeal for your urgent intervention against trespassers", dated September 6, 2016, and addressed to the Secretary to the Government of Imo State, SGI.
Apart from reminding the SGI that government allocated the land to them in 1994, "government did not pay a kobo as compensation to natives on the land", stressing that INTEEAMARK did so from members contributions.
Government, through the Ministry of Commerce and Industry, equally entered into a Memorandum of Understanding, MoU, with INTEEAMARK on December 13, 2013. This was perfected and vetted by the state Ministry of Justice. This MoU is valid and subsists over a five-year period.
As required by law, "Imo State Government, by a Deed of Sub-Lease land instrument, consented to by Governor Rochas Okorocha, as consented to by the Commissioner for Lands, Survey and Urban Planning, Chief Uche Nwosu, duly transferred title and ownership of the land to INTEEAMARK", executed September 19, 2014, and registered as 46 at page 46, Volume 1091 in the Lands Registry Office, Owerri.
After outlining five major reasons INTEEAMARK land cannot be shared with artisans or other parties at this stage of development, the group told the SGI that going against the original plan would be a total embarrassment.
"It will be a total embarrassment and economic disaster to our foreign partners if we are to truncate concluded arrangements at this stage, where funds/goodwill have been committed to the project, by any re-arrangement of the site or sharing", the group pleaded with the SGI.
Instead of heeding the passionate appeal of the group, Governor Okorocha and his lieutenants applied the joker. He revoked the land and published same in the Tuesday edition of National Question, an Owerri based tabloid of November 1-4, 2016.
The closest government came to mentioning this land was in the "schedule description".
"All that whole piece/parcels/plots of land known as and called P6 and P7 in New Name Industrial Layout, Owerri, which might have been covered by any special contracts made by Imo State Government, including Statutory Certificates of Occupancy, Deed of Assignment, Sublease agreement registered as 46/46/1091 and dated 19/9/2014, allocation letters/ letters of offer, any other special contracts made pursuant to Section 5 and 8 of the Land Use Act, are hereby revoked", government stated.
Speaking exclusively to Saturday Vanguard on the issue, Chief Ozoemena said that "there are laid down laws that must be followed before any land can be revoked by government and I must say that no such thing happened in our case".
Answering another question, Chief Ozoemena said that they have spent a lot of money in pursuit of the project, adding that "the alleged revocation of the land has not only made nonsense of government's repeated calls for wealthy indigenes to come home and invest".
All efforts, including visit to the SGI's Office to get government's side of the story failed as a staff said "he has gone to see the Governor".