By Ikechukwu Nnochiri
ABUJA—The Code of Conduct Tribunal, CCT, sitting in Abuja, yesterday, adjourned further hearing on the 16-count charge against the Senate President, Dr. Bukola Saraki, till January 17.
The Justice Danladi Umar-led panel adjourned the case after it discharged the star prosecution witness, Mr. Michael Wetkas.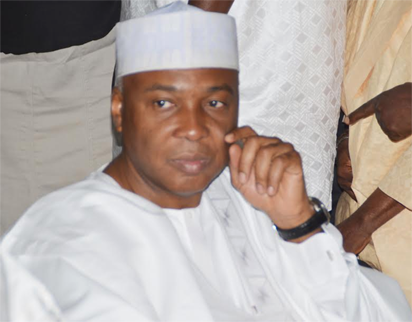 Wetkas is a detective with the Economic and Financial Crimes Commission, EFCC.
He was head of a three-man crack team that was constituted in 2014 to investigate six separate petitions against Saraki.
The tribunal allowed him to exit the witness box after he was re-examined by the prosecution counsel, Mr. Rotimi Jacobs, SAN.
Saraki's legal team headed by a former Attorney General of the Federation, Chief Kanu Agabi, SAN, earlier rounded up their cross-examination of the witness.
Wetkas commenced his evidence-in-chief on April 6, 2015.
Saraki's legal team took more than 15 days to cross-examine him, a development that made the prosecution lawyer, Jacobs, to accuse the Senate President of deliberately stalling his trial.
Wetkas had in his evidence-in-chief, narrated how Saraki, among other allegations, collected Saraki as a governor, four years after he left office.
He told the tribunal that Saraki got paid from Kwara State Government House, at a time he was also collecting his allocation as a Senator.
Besides, Wetkas, while being cross-examined by one of Saraki's lawyers, Mr. Paul Usoro, SAN, revealed how the defendant acquired various properties with bank loans he secured while in office as the governor of Kwara State.
FG had in the charge, alleged that Saraki made false/anticipatory declaration of assets, operated foreign accounts while in office as Kwara State governor between 2003 and 2011, as well as collected governorship salary four years after his tenure had elapsed.