By Abdulwahab Abdulah
Lagos—A prosecution witness, Ademola Oshodi, yesterday, told Justice Hakeem Oshodi of an Ikeja High Court how the embattled Justice Rita Ofili-Ajumogobia allegedly opened her corporate account with Diamond Bank Plc with the address of an uncompleted building.
In his testimonies at the resumed hearing of the case Oshodi disclosed that the given location of the company being an uncompleted building could have stalled the opening of the account but the condition was waived by the bank.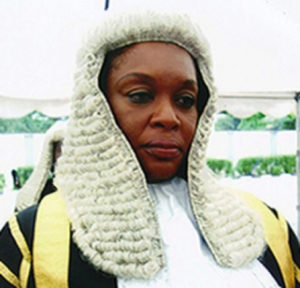 Justice Ofili-Ajumogobia and Mr. Godwin Obla, SAN, are being prosecuted by the Economic and Financial Crimes Commission, EFCC.
The duo were arraigned by EFCC on November 28, 2016 before Justice Oshodi in a 30-count charge bordering on perversion of the course of justice, graft, unlawful enrichment, providing false information to the EFCC and forgery.
Led in evidence by EFCC prosecutor, Rotimi Oyedepo, the witness said the bank completed the registration process because the judge is a good customer of the bank and the fact that the uncompleted building was hers.
"Before opening the corporate account for Justice Ofili-Ajumogobia, she filled a corporate account opening form and submitted the company's documents which was verified from Corporate Affairs Commission.
"We also did a physical visitation to the company's address given as 18, Lai Bende St, Fajuyi Estate and found out that the building was still under construction but because Justice Ajumogobia was our customer and we knew that the property belonged to her, we proceeded to open the count," he said.
According to Oshodi, all the account opening requirements were satisfied by the judge except for the address.
The EFCC's witness who is a staff of the bank also testified to how the judge deposited huge sum of money at various times through him while serving as judge of the Federal High Court.
The banker told the court that he managed the bank accounts of Justice Ofili-Ajumogobia, with number 0029928474, 0032091183 and 0036103605.
The banker told the court that he regularly visited Justice Ofiili-Ajumogobia's home and also chambers on the premises of the Federal High Court on Oyinkan Abayomi Drive, Ikoyi, Lagos, to collect huge cash sums mostly in dollars to be deposited in the judge's account.
The witness said whenever the money was above the lawful threshold that could be deposited in the judge's account, he would split it, deposit a portion in the judge"s account and the remaining portion in his own personal account to be transferred back to the judge.