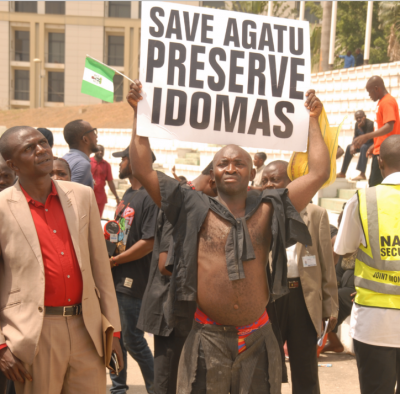 Agatu
By Peter Duru, Makurdi
The Sole Administrator of Agatu Local Government Area, Mr. Mike Inalegwu has stated that over 5,500 lives were reportedly lost in the bloody crisis between Agatu farmers and Fulani herdsmen since the outbreak of the crisis in 2013.
Inalegwu who spoke in Obagaji at a peace meeting brokered by Governor Samuel Ortom of Benue State and his Nasarawa State counterpart, Tanko Al Makura, explained that of the number 3,920 died during the crisis while the rest died at the various Internally Displaced Persons, IDPs, camps established in parts of the state.
Inalegwu explained that he had earlier signed a peace agreement on behalf of the people of the area with leaders of Fulani herdsmen from Nasarawa state to create room for the herdsmen to graze in the community without rancor.  He said despite the number of casualties, the people of Agatu were willing and prepared to cohabit with the Fulanis in an atmosphere of peace and mutual trust.
He explained that the agreement entailed that "unarmed herdsmen from Nasarawa State would be allowed entry into Adapati Island in Agatu to graze their cow and not for the purposes of residence.
"It also provides that no herdsman is allowed to graze beyond the Island while they would be held accountable for destruction done to any farmland or produce within or in any nearby Island other than Adapati.
"Moreover herdsmen would not be allowed to cross to Agatu hinterland until normalcy is restored and by extension neither Agatu nor the herdsmen will be allowed to carry arms and dangerous weapons to the area."