The Chief Executive Officer, Capital Oil & Gas, Dr. Patrick Ifeanyi Ubah, has called for more robust social contracts between Nigerian leaders and the people in 2017, saying this would provoke unending prosperity in the country.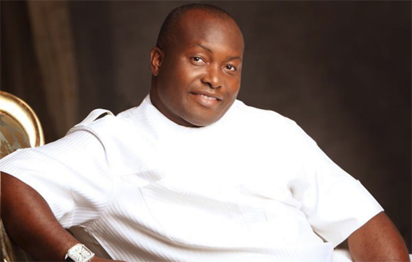 Ubah in his New Year Message stated that he remains grateful to God for making it possible for Nigerians to see the new year, as well as His (God's) grace for the past year.
The message read: "While I thank God for making it possible for us to navigate through the 2016 and into the new year, I hereby urge everyone to focus on advancement of humanity in the year 2017- Let us tweak the conversation to mirror youth advancement in order to reduce the tension in our land and answer the development questions on the lips of our people.
"Let issues that border on the advancement of human cause draw our attention this year.
"Let our investments be centred on poverty alleviation and youth empowerment.
"Let our attention be redirected towards improving the living conditions of our people.
"Let us delve into issues that are in conformity with building synergy and interventionist platforms that will aid the development of our people.
"The exponential level of unemployment amongst our youths has reached alarming proportion. This calls for a new line of thought and fresh policy policy direction as we aim to stem the tide. I therefore suggest that a passionate attempt and course of action be taken to depopulate the unemployment camp.
"Focusing on the career development of our youths should be pursued with vigour by everyone of us if we must recreate the middle class stratum which is the engine room of any strong and viable economy.
"We as a people should propagate the ideals of buying made in Nigeria products in order to enhance our production sector which will in turn lead to increase in job creation for our youths.
"We should redirect our compass to agro business by modeling our economy after countries that have succeeded in this perspective. This calls for synergy and well crafted development partnership that will see us move up the ladder of agriculturally advanced economies.
"Our tourism industry should receive a noticeable attention aimed at massive development and not the type that ends up on the pages of newspapers and screens of our televisions.
"Progress was made in our football sector last year, but more needs to be done. I pray that our people should play their role as together we can take our sports sector to enviable heights. We can do it. Let's shift our passion from European based club football to Nigerian based club football, so that we can create a football driven economy.
"I call for more social contracts between the leaders and the led in 2017 as that can provoke unending prosperity. Let us change the National conversation today…"