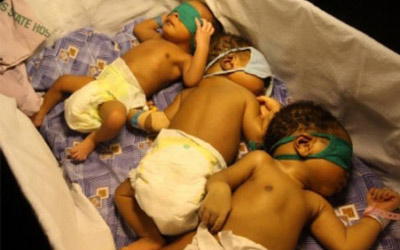 Babies rescued from the Aba illegal clinic
Funtua (Katsina State) – Eighteen babies, abandoned by their mothers, have been recovered in Funtua town, Katsina State, in the last four months, an official has disclosed.
Alhaji Ibrahim Nasir, Director of Education and Social Services (ESSD), Funtua Local Government Council, told the News Agency of Nigeria (NAN) in Funtua on Wednesday, that some babies were found in dustbins.
"Some of the babies were also thrown into toilets, while some were left in markets, public places and uncompleted buildings in the towns," he said.
Nasir, who described the development as pathetic, said that the growing cases of abandoned babies and lunatics were becoming a source of concern to the council.
He said that the council was sinking much funds into taking care of the abandoned babies as well as in the evacuation and repatriation of lunatics.
"Just yesterday, (January 24), a newly born baby girl was found in a soak away; people rehabilitated her before they handed the baby to government officials,'' Nasir said.
He said that some people had approached the local government for an approval to adopt babies, and explained that the requisite procedures were being worked out before granting the request.
The official commended the District Head of Funtua, Alhaji Sambo Idris, and other traditional leaders whose efforts and contributions had ensured the recovery and survival of the abandoned babies.
The Director also commended the Katsina State government's commitment and support to psychiatric hospitals, less privileged families, lunatics and orphanage homes, and called for special funds for local government areas with high numbers of such social cases. (NAN)