By Chioma Onuegbu
Some of survivors of the Reigners Bible Church that collapsed on Saturday in Uyo have appreciated God for saving their lives.
Speaking to Vanguard at Anua Hospital Anua Offot in Uyo LGA Mrs Eno Etim (44) from Mbo Local Government Area of Akwa Ibom State, said she lost consciousness after a heavy rod fell on her back.
Narrating her ordeal she said" I was inside the church and everything was going on normal. She stated that a lady was called to lead in the praise and worship when the governor entered.
"According to her, as they began dancing, the building fell and she did not know how she got to the hospital.
After the governor came in and the church welcomed him the next thing was praise and worship.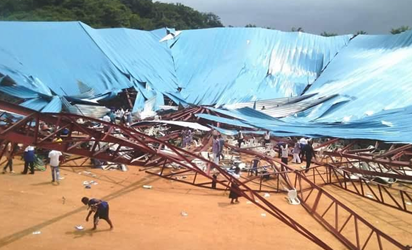 " As that was going on we heard the church roof breaking and started falling on people. That was all I remembered. I don't know how I got to this hospital. It was after a while that I regained consciousness.
"I still feel pain in my back and all over my body. But I am grateful to God because I am not better than those that passed away"
She said that she is a member of United Intercessors Network adding that Pastor Akan Weeks was one of the leaders.
Her niece, Nkoyo Ekong, said she was in the house when Etim called her that she should meet her in the hospital because she was involved in the church accident.
Also Emem Akpanitiat, 22, who sustained injury on her head, legs and arms said the doctor said she would be transferred to UUTH.
The Mortuary attendant of the hospital Ofonnimeh said no dead bodies were brought to the hospital.