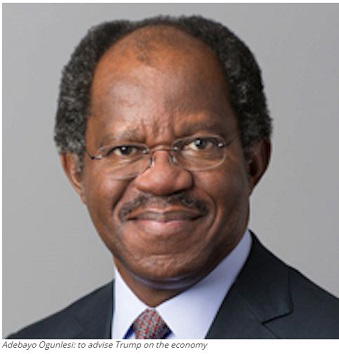 Adebayo Ogunlesi: to advise Trump on the economy
New York – U.S. President-elect Donald Trump on Wednesday formally unveiled Nigerian-born U.S.-based Bayo Ogunlesi as a member of his Strategic and Policy Forum charged with advising the president on economic matters.
Trump's Transition Team in a statement on Wednesday, said the president-elect also announced three additional members to join the forum.
"Earlier this month, President-elect Trump established the President's Strategic and Policy Forum and announced an initial round of 16 members.
"The Forum is composed of some of America's most highly respected and successful business leaders.
"They will be called upon to meet with the President frequently to share their specific experience and knowledge as the President implements his economic agenda.
"The Forum will be chaired by Stephen A. Schwarzman, the Chairman, CEO, and Co-Founder of Blackstone.
"America has the most innovative and vibrant companies in the world, and the pioneering CEOs joining this Forum today are at the top of their fields," Trump said.
According to Trump, my administration is going to work together with the private sector to improve the business climate and make it attractive for firms to create new jobs across the United States from Silicon Valley to the heartland.
Members of the Forum are to provide their individual views to the President, informed by their unique vantage points in the private sector on how government policy impacts economic growth, job creation and productivity.
The Forum is designed to provide direct input to the president from many of the best and brightest in the business world in a frank, non-bureaucratic and non-partisan manner.
With Wednesday's announcement of three additional members, the individuals on the Forum now include: Adebayo "Bayo" Ogunlesi, Chairman and Managing Partner, Global Infrastructure Partners".
The others are Stephen A. Schwarzman (Forum Chairman), Chairman, CEO, and Co-Founder of Blackstone; Paul Atkins, CEO, Patomak Global Partners, LLC, Former Commissioner for the Securities and Exchange Commission; and Mary Barra, Chairman and CEO, General Motors.
Toby Cosgrove, CEO, Cleveland Clinic; Jamie Dimon, Chairman and CEO, JPMorgan Chase & Co; Larry Fink, Chairman and CEO, BlackRock; Travis Kalanick, CEO and Co-founder, Uber Technologies.
Also in the forum are; Bob Iger, Chairman and CEO, The Walt Disney Company; and Rich Lesser, President and CEO, Boston Consulting Group, are also on the forum.
Also in the economic advisory forum are Doug McMillon, President and CEO, Wal-Mart Stores, Inc.; Jim McNerney, Former Chairman, President, and CEO, Boeing; Elon Musk, Chairman and CEO, SpaceX and TeslaIndra Nooyi, Chairman and CEO of PepsiCo.
The list also includes; Ginni Rometty, Chairman, President, and CEO, IBM; Kevin Warsh, Shepard Family Distinguished Visiting Fellow in Economics, Hoover Institute, and Former Member of the Board of Governors of the Federal Reserve System; Mark Weinberger.
The rest are; Global Chairman and CEO, EY; Jack Welch, Former Chairman and CEO, General Electric; and Daniel Yergin, Pulitzer Prize-winner, Vice Chairman of IHS Markit.