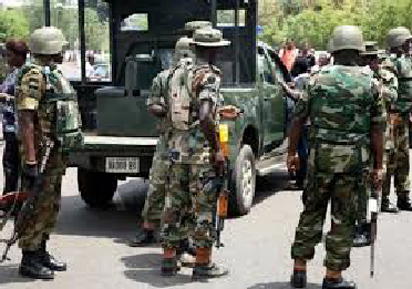 •Soldiers
By Kingsley Omonobi
The 21 Brigade of the Nigerian Army, Borno witnessed a complete breakdown of order and discipline yesterday as soldiers attached to the brigade to fight Boko Haram in the North East went on the rampage over unpaid allowances  running into hundreds of thousands of naira, and bad treatment by their commanders.
It was gathered that the troops turned against their officers and started firing gunshots in all directions threatening to kill any officer who dared them.
Military Sources confirmed to Saturday Vanguard that troops of 21 Brigade of the Nigerian Army who have been in the fore-front of the assault on the dreaded Sambisa Forest in Borno State complained of maltreatment after making so much sacrifice amidst tough conditions that seemed unappreciated despite several assurances from commanders that outstanding allowances will be paid.
However, when the money was eventually said to have been released, the soldiers discovered that they were short changed by the army authorities. For instance, those who were owed between N300, 000 and N250, 000 after several months were being paid between N80, 000 and N100, 000 which they felt was unjustifiable after what they had gone through in the war on terror.
According to the military source,"The brigade is based in Bama but is currently deployed at Bula Bello in Sambisa for Operation Rescue Final. But suddenly soldiers started going on the rampage at about  6am today, (yesterday) firing in all directions and threatening to pull out of the operation.
"As some of them fired gunshots, some started preparing vehicles to move out of location. They also warned officers to steer clear or they would be shot dead. They are saying their commanders have been treating them badly and telling them lies. As I speak to you, the firing is still going on, and there is confusion everywhere."
The Nigerian Army is yet to issue a statement on the incident while its spokesman, Brigadier General Sani Usman did not respond to calls made to him.
It will be recalled that the army had experienced repeated cases of mutiny by Nigerian soldiers since the war against Boko Haram began, while the Army has tried over 100 soldiers for the offence.
In May 2014 troops of 7 Division, who were angry by the circumstances leading to the death of 12 of their colleagues in a Boko Haram ambush, opened fire on the vehicle of their General Officer Commanding (GOC), Major General Ahmad Mohammed. The soldiers were later arrested, tried and jailed.