By Vincent Ujumadu, Awka
THOUSANDS of people of Alor, the home town of the minister of labour and employment, Dr. Chris Ngige yesterday marched through all the major roads in the town to protest the alleged imposition of a caretaker committee on the town by the Anambra State government.
The town, which is one of the major communities in Idemili South local government area of the state, literally stood still as the protesters that included lawyers, medical practitioners, university professors, top civil servants and business moguls, marched through the town, chanting war songs and demanding that what the town needed was an election to select its leaders and not a caretaker committee.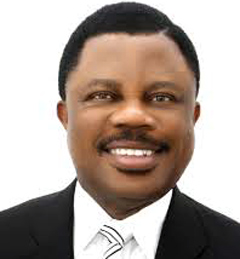 Vehicular movement was virtually at standstill as almost every adult in the town participated in the peaceful protest. A large number of police men and other security operatives were also on hand to ensure that peace was maintained.
Some of the placards waved by the protesters had inscriptions that read: "Nothing is working in Alor", "We want a democratic executive in Alor", "We are tired of caretaker committee" and "There is too much taxation by the caretaker committee".
Speaker after speaker recalled that the late traditional ruler of Alor, Igwe James Nkwoka inaugurated an election committee headed by Chief James Agubalu in 2012 before his death, regretting that rather than allow the committee to conduct the election, the state government has been renewing the tenure of the caretaker committee ever since.  A Senior Advocate of Nigeria (SAN), Chief Emeka Ngige, who was among the speakers described as an aberration a situation whereby the people of Alor were not allowed to elect their leaders under a democratic dispensation.
Ngige said the community had tolerated the caretaker committee for too long, insisting that the people have had enough.
According to him, the protesters comprised members from all the 36 branches of Alor People's Congress, APC, who insisted that the right thing must be done.
He wondered why a minority group in the community should be using Alor to do the state government's bid, insisting that the area had gone beyond such bondage considering the caliber of people it had produced in Nigeria.
Ngige further recalled that there was an election in the area some time ago, which according to him, the state government disrupted before putting in place the caretaker committee and argued that the people were tired of the committee because it was not beneficial to them.
He said: "Because of this impunity, Alor has not known peace for some years. Besides, the tenure of the caretaker committee has since expired and the people therefore want democracy in place".