The US President-elect Donald Trump has urged Obama, Americans and, perhaps, Russian President, Putin to jettison the disagreement between the two countries and move on to bigger and better things.
Trump also said he will, however,  meet with intelligence leaders next week to get the "facts of the situation" that led the Obama administration to expel 35 Russian diplomats in the wake of cyber attacks related to the US election for the interest of America.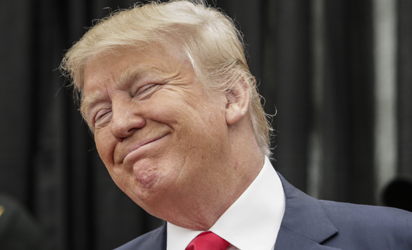 The statement from Mr Trump urged America to "move on to bigger and better things" but confirmed he would meet security officials "in the interest of our country and its great people".
"It's time for our country to move on to bigger and better things. Nevertheless, in the interest of our country and its great people, I will meet with leaders of the intelligence community next week in order to be updated on the facts of this situation.
The Kremlin has warned the expulsion may lead to retaliatory actions.
Mr Trump has previously dismissed as "ridiculous" claims Russian cyber-hackers had interfered with the US election
U.S. President Barack Obama has ordered the expulsion of 35 Russian diplomats including shutting down of two Russian compounds in the U.S. in a number of actions announced on Thursday as reprisal for Russia's meddling in US election.
"Today, I have ordered a number of actions in response to the Russian government's aggressive harassment of U.S. officials and cyber operations aimed at U.S. election.
"These actions follow repeated private and public warnings that we have issued to the Russian government, and are a necessary and appropriate response to efforts to harm U.S. interests in violation of established international norms of behaviour.
"The U.S State Department is also shutting down two Russian compounds, in Maryland and New York, used by Russian personnel for intelligence-related purposes, and is declaring 'persona non grata' on 35 Russian intelligence operatives.
"Finally, the Department of Homeland Security and the Federal Bureau of Investigation are releasing declassified technical information on Russian civilian and military intelligence service cyber activity.
"This is to help network defenders in the U.S. and abroad to identify, detect, and disrupt Russia's global campaign of malicious cyber activities."
According to him, all Americans should be alarmed by Russia's actions.