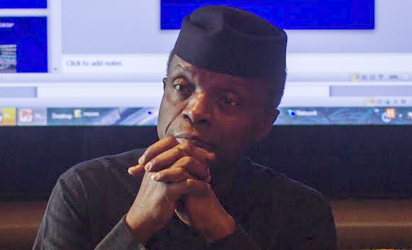 Osinbajo
By Levinus Nwabughiogu
ABUJA-Vice President Yemi Osinbajo has called for increased partnership between public and private sectors to create more jobs for the teeming unemployment youths in the country.
He said that the federal government on its part was committed to creating an enabling environment and providing required infrastructure for business to thrive.
Osinbajo said that even with the proposed N7 trillion budgeted for 2017, the economy may not feel the impact, submitting that serious partnership with the private sector was one of the ways of ensuring diversification of the economy.
The vice president spoke in Sagamu, Ogun State on Thursday when he led a group of government officials to inspect some food process factory built by Honeywell group and the Shea-Butter Factory owned by the Lad Group.
A copy of the transcript from his office in Abuja quoted the vice president as commending the vision of the individuals.
"The Federal Government very strongly believes that there is no way of delivering on our economic agenda without a serious partnership with the private sector.
"Our entire budget size for 2016 is something in the order of just over six trillion Naira, and we will probably be moving to about seven trillion in the 2017 budget.
"But seven trillion is certainly not the kind of money, it does sound like a fair amount of money, but certainly, its not the kind of size that can really make a huge difference in a ninety trillion Naira economy such as we have.
"So the real issue is that, the contribution of the Federal Government, is catalytic, the Federal Government can only make some catalytic contributions in terms of infrastructure, and some incentives for the private sector.
"The real contribution is going to come from the private sector and that's why these partnerships are absolutely important to us, and what we are looking at is some game-changing type of projects, such as we have here.
"The types of projects that can make a real difference, because when we are talking about backward integration, the whole rural value chain. When we are saying agriculture is the way to go, from agriculture, we can employ a lot of people and then the whole value chain, from farm to table; we can do so much.
"That requires serious investment, it requires the types of enterprises where significant amounts of resources will have to come, in order to make that difference.
"And so we are trying to partner with the kinds of serious investors, serious businesses that can really make a difference. And I think that this project is one such investment that i believe will make a significant difference. From listening here today (to what has been said) especially all about the local products, the crops and grains that are going to be used in this factory; Sourgum, the feed mill factory, wheat; all these are for us right on point.
"With some of what we are getting, the better yields coming from the wheat that we see today, we think that what you're doing is going to be really tied to that, because we must be self-sufficient, even in wheat production.
"We thought that was impossible a few years ago, but what we are seeing now is that there are actually better yielding seeds that we can lay our hands upon, that can increase the yield, especially in wheat, and I think that this tied very well with that.
"At the moment there is a shortage of animal feed everywhere, especially because of the shortage of maize. So the feed mill is going to be absolutely important in achieving some of our objectives.
"The sorghum mill is really a big attraction, so we think that what you are doing is really spot on, it's really the right way to go and we certainly are committed to supporting the Honeywell Group in ensuring that this happens and we 'll do all that is required to make sure that this projects succeeds.
"We think that there are very very important synergies with other areas of the economy as well and we naturally expect that lots of jobs will come from this, as that is important to us here will be plenty of industrial opportunities, quality jobs that will mean more taxes as well.
"I want to say how excited I am to be here and to see the really interesting things that are going on here and also to assure you all the support of the Federal Government.
"We certainly will be looking at all of the various ways that we can assist with ensuring that this project comes to conclusion in very reasonable time, and that we are able to take advantage of the benefits as quickly as possible", Osinbajo said.