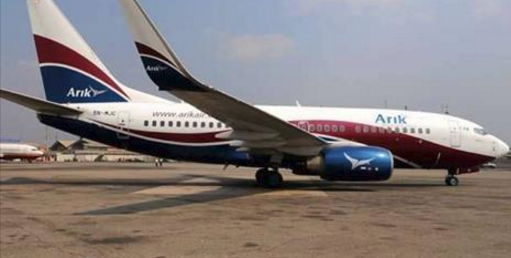 Arik Air
By Lawani Mikairu
Lagos—Air passengers were stranded at airports across the country yesterday, following crippling of Arik Air's operations by protesting unions.
The National Union of Air Transport Employees, NUATE, the Air Transport Senior Staff Services Association of Nigeria, ATSSSAN, and the National Association of Aircraft Pilots and Engineers, NAAPE, had embarked on the protest due to the airline's inability to pay its workers seven months salaries and other anti-labour practices.
 Arik reaches truce with unions, resumes operations
Meantime, the unions that grounded the operations of the airline were yesterday said to have agreed to shelve the strike following the intervention of Nigeria Civil Aviation Authority, NCAA.
The regulatory authority brokered a meeting between the unions and Arik Air top management. A communiqué issued after the meeting was signed for Arik Air by Deputy Managing Director, Capt. Ado Sanusi, Associated Vice President, Treasury, Arik Air, Mr. Garuba Akeem, while Comrade Ocheme Aba, Comrade Francis Akinjole and Olayinka Abioye of NAAPE, ATSSSAN and NUATE respectively signed for the unions.
Also, Capt Abdullahi Sidi, Director, Operations and Training who represented the Director-General of NCAA, signed for the authority.
The communiqué said Arik Air has undertaken to pay the outstanding salaries, including October and November, 2016 salaries before the end of the year
 Passengers' experience
Before the truce, passengers who had bought tickets online and were billed to travel yesterday couldn't as a result of the protest.
Many of the visibly angry passengers swore never to patronise the airline again because of its penchant for moving from one crisis to another.
A passenger in Lagos who simply identified himself as Ikechukwu, said Arik Air had forced him to spend about N70, 000 on tickets to fly to the east, lamenting that the flight was cancelled on Monday, only for him to report to the airport yesterday to meet a disheartening situation.
"I have no choice; I will have to go by road because I do not have any more money. I will never patronize Arik Air again. Why all these crises?
''Last week, it was London passengers; today, domestic passengers, and no consideration for passengers and their business that suffer," Ikechukwu fumed.
Another female passenger who angrily told Vanguard to call her any name, said Arik Air had ruined her day as she had serious business to transact in Abuja.
"I have gone to the other airlines' counters but they are full. I cannot stand such crowd; I have resolved to go by road,'' she lamented.  The airline's international flights were also affected.
An elderly passenger who told Vanguard to advise Arik Air owner to always take the interest of passengers to heart before fighting workers who make the airline survive, said until passengers started instituting legal actions against airline owners,  they would not learn.
"How can this man ruin my business today, I will not buy their tickets again ," he swore.
Reports from Abuja, Benin, Port Harcourt and all other routes flown by the airline indicated a similar situation.
Another passenger, Tomisin Olukare, said she bought a one-way ticket from Lagos to Abuja for  N42, 000 three days ago.
"I came this morning and there is nobody to attend to me and my flight was supposed to leave by 10:00 a.m., so I am really confused," she said.
Chika Emmanuel, yet another passenger, said an agent assisted her to buy an Air Peace ticket for Abuja immediately she sensed that there was going to be a disruption in Arik Air operations.