By  Ola Ajayi
Ibadan – Considering the  magnitude of both human  and material losses in the penultimate week when two rival groups, 'One Million boys' and 'Indomie Abe Igi Boys ' sacked some parts of Ibadan metropolis like Beere, Born Photo, Ilupeju, Agbokojo,Mapo, Idi-Aro and Akala Way, the leadership of the Methodist Church of Nigeria, led by Sunday Ola Makinde and the President, Sword of the Spirit Ministries, Bishop Francis Wale Oke have called on the Olubadan of Ibadan, His Imperial majesty, Oba Saliu Adetunji to work hand in hand with the police, Governor Abiola Ajimobi and other security agencies to expose all those who ruptured the peace of the ancient city and their sponsors.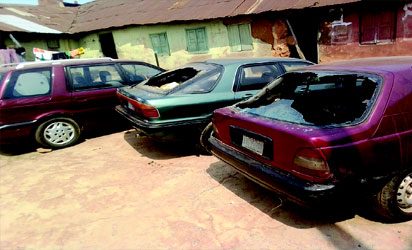 While the mayhem lasted, a hair dresser and her child were reportedly killed while shops were looted and burnt by the ravaging miscreants.
The church leaders said it would be tantamount to sitting on a keg of gunpowder if the sponsors of the mayhem that left some dead and property destroyed were not exposed and brought to justice.
The church leaders who paid a courtesy visit on the Olubadan on Boxing Day were accompanied by Bishop of Agodi Methodist Church, Ibadan, Rt Reverend Amos O. Ajiboye, very Rev Amos Olalere and Bishop Oladapo Ogunsola.
Culture and tradition
Others in the entourage included The very Reverends; David Ojo,Adeoye Taiwo, Jeremiah Shittu, Ojo Taiwo and Ani Matthew while Chief Peace Funke Oladeji, Mr Fola Owolabi, Dr Akinlolu Oke, Mr Yinka Abiola, Pastor Femi Obisesan, Pastor Olayinka Olasunkanmi, Pastor Sola Oladoye and Mr Olotu Temitope.
Makinde said to the monarch, "if there is no peace, nobody can live anywhere. About two weeks ago, it pained me when I heard something like "One million boys". And they started here in front of Kabiyesi. In our culture and tradition here in Ibadan, there is no house without Mogaji.
"I remember vividly when we were growing up, the Mogajis were in charge of settling little misunderstandings. If there is any visitor, the Mogajis are in charge of their movements. At this point, we can't leave everything to the Police.
"On this issue, you can relate with the Governor of the state and commissioner of Police, call all your High chiefs, Senior Chiefs, Mogajis and even Baales. These boys come from a compound in Ibadan, they are sons of known people in this town. We don't want that in Ibadan; they are in Lagos destroying lives and property. Though, we do understand that unemployment is a great factor in this, that should not put the lives and property of the people in danger.
"When they mentioned the areas where they wreaked havoc, I was worried that these places are close to the palace. We must know their parents and their parents must be ready to expose them because if we continue like this, we don't know where it will lead us. I don't want a situation where such nefarious activities will emanate from your area. You have power, wisdom, influence and the natural power from God as natural ruler. I love the natural influence not artificial."
"We must stop their  reign of terror, appeal to them and ensure peace returns  in Ibadan. We need to know their leaders, though, we can't do this by force. Call all their leaders, appease them. Let them come out and say whatever are their grievances. When they say it, you would then know how to resolve it. Those are the things I brought forward before you Kabiyesi,", he said.
Responding through his media aide, Mr. Adeola Oloko, Olubadan said very soon, a town hall meeting which will have the Olubadan-in-council, High Chiefs, Senior Chiefs, Baales and Mogajis as well as other stakeholders in attendance will hold at the Mapo hall, Ibadan.
Police read riot act to rival groups: When making comments, the state police Public Relations officer, SP Adekunle Ajisebutu said while some of these criminals have been arrested and are currently being prosecuted in court of law for various criminal offences, others have arrogantly  worn  the garb of violence and brutality, causing fear and apprehension among the people of the affected areas.
"The Command will not shirk from its responsibilities of protecting live  and properties and maintaining law and order. Therefore, it is resolutely determined to curtail their excesses and dissipate their ranks by whatever legitimate means it may require. Enough is enough!
Law abiding citizens
"While these agents of destabilization and destruction are sternly warned against further violence or risk arrest and prosecution, parents, guardians are advised to talk to their children. Community leaders and other peace-loving individuals must join hands with the police and other security agencies to stem the tide of this 'madness' in the name of hooliganism.
"However, law abiding citizens are enjoined to go about their lawful businesses as concerted efforts are currently being made to protect their lives and property before, during and after the festive period. To achieve this, the Commissioner of Police, Samuel Adegbuyi, has ordered a massive deployment of policemen comprising Special Forces and plain-clothes policemen to embark on a twenty-four hour- surveillance and aggressive patrol of the affected areas and other places in the state.
Up till now, security agents are still patrolling the areas to prevent a re-occurrence of the mayhem and also assure residents of the areas of adequate security of their lives and property.