The Secretary to the Rivers State Government, Honourable Kenneth Kobani has declared that the Ogoni people remain solidly behind Governor Nyesom Ezenwo Wike for his outstanding performance since assuming office.
In a statement on Friday, Hon Kobani declared that the support of Ogoni people for Governor Wike stems from his outstanding projects delivery in the area and across the state.
Honourable Kobani noted that the Ogoni people trooped out in their numbers on December 10, 2016 to vote for PDP candidates, but stated that the rerun elections were rigged by security agencies in favour of the APC candidates.
He noted that PDP candidates have resolved to follow the laid down legal processes to seek redress at the Tribunal.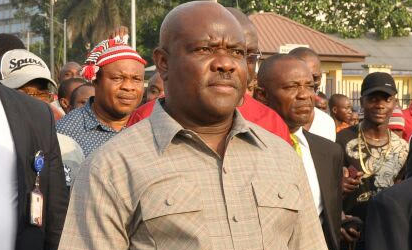 The Secretary to the Rivers State Government declared that projects such as the Sakpenwa-Bori road, the Kpopie-Bodo road, the Ogoni Andoni-Opobo-Nkoro Unity Road, the Birabi Memorial Grammar School, Bori, the Rehabilitation of General Hopitals in Gokana and Khana Local Government Areas have endeared Governor Wike to the Ogoni people, with his popularity at its peak.
Honourable Kobani said that across Rivers State, the effect of Governor Wike's infrastructural development projects and programmes are being felt by the people.
He stated that Governor Wike is Nigeria's best performing governor as attested by three leading newspapers in the country.
The Secretary to Rivers State Government described Governor Wike as the nation's icon of democracy and the defender of the people's right to vote leaders of their choice as exemplified during the last rerun elections in the state.
He noted that the people of Rivers State will continue to stand with Governor Wike despite the unprovoked attacks from external forces. Honourable Kobani said that all the enemies of the Governor will continue to fail because the governor is connected to the people and has lived up to their expectations.
Honourable Kobani assured Governor Wike that Ogoni people will continue to support him, because he is God-sent and a proven performer who loves Ogoni people.